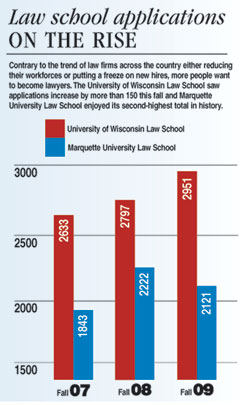 A September 14 article in the Wisconsin Law Journal (noted elsewhere on this website) included the chart to the left.  Although the story was innocuous enough, reporting that applications to law school in Wisconsin went up last year in spite of the economic downturn, the accompanying chart gives the impression that applications to the University of Wisconsin Law School dramatically exceed those of Marquette.  A quick glance seems to suggest that for the fall of 2009, Wisconsin received more than twice as many applications as Marquette since the red bar appears to be more than twice as long as the blue bar.
That isn't true, and the problem is the misleading presentation of the graph.
While it is true that Wisconsin does receive more applications than Marquette, the discrepancy is not nearly as great as the graph seems to suggest.  The problem, as anyone who looks at the graph carefully will see, is that it reproduces only the top half of the bar graph showing the relative number of applications at the two law schools.
In fact, if one looks at the entire graph, then it becomes clear that the Wisconsin lead is a more modest one.  For the fall of 2007, Marquette's application total was 68% of the Madison total.  For 2008, the number jumped to 79%, before falling back to 72% for 2009.  Until 2009, Marquette had been gaining on Madison at a fairly rapid pace.  It seems likely that, in a time of economic downturn, the fact that private Marquette has a much higher tuition than public Wisconsin served to discourage applicants who may well have applied in the past.