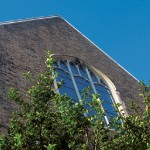 One of this Law School's most noteworthy legacies is its production of many of the region's most outstanding trial lawyers.  The legacy was fully evident on Friday, November 6, 2009 at the Civil Trial Evidence and Litigation Conference.  The sold-out event served as a "last call for Sensenbrenner Hall" of sorts while featuring a panel that well-represented the many fine trial lawyers who have distinguished themselves as Marquette lawyers.  It was my privilege to help organize the conference along with Pat Dunphy (L'76), who conceived of the idea and was the key to assembling the talented panel of Marquette alumni.  In light of Friday's success, Pat and I have already begun discussing next year's civil litigation conference, which will be held in the Law School's new venue in Eckstein Hall. 
             The presentations spanned a broad array of issues and problems regularly confronted in civil litigation.   The strength of the presentations rested not just in their discussion of doctrine and rules, but in the panelists bringing to bear their experience and insights in preparing and trying cases.   Links to the written CLE material and the accompanying PowerPoint presentations will be posted on the Law School's website later this week.
             Starting the day was Michael J. Cohen (L'86) of Meissner Tierney Fisher & Nichols SC, who underscored the important relationship between pretrial practice and outcomes at trial.  Drawing on his extensive experience as a commercial litigator, Mike addressed the duty to preserve evidence, especially electronic information, when a lawsuit appears on the horizon.  Mike emphasized the need to work with the client to understand what the law requires so that discoverable information is not destroyed, inadvertently or otherwise, thereby exposing the client (or counsel) to sanctions.  Pat Dunphy (L'76) of Cannon & Dunphy SC, addressed a different aspect of pretrial practice, namely, the creative use of requests to admit during discovery.  Pat described how he used requests to admit to obtain a binding judicial admission in a major product liability case that proved determinative of its outcome.
             Turning from the pretrial to the trial setting, the Hon. Patricia J. Gorence (L'77), a federal magistrate judge in Wisconsin's Eastern District, spoke about the management of exhibits at trial.  Judge Gorence particularly emphasized some of the issues that arise in the use of electronic exhibits of various sorts, including the introduction of e-mails, website pages, and CGI animations.  Lynn Laufenberg (L'75), of the Laufenberg Law Group SC, then undertook the Herculean task of providing an overview of state law governing the admissibility of expert opinion testimony.  Lynn's masterful lecture featured his own experience in working with a wide variety of experts, including a seasoned dairy farmer who turned out to be the critical witness in a stray voltage case.
             Leading the afternoon session was one of Wisconsin's most accomplished women trial attorneys, Mary Lee Ratzel (L'81), of Peterson, Johnson, and Murray SC.  Drawing upon her considerable experience in defending complex civil cases, particularly medical malpractice actions, Mary Lee took up a variety of important issues related to expert testimony, including Wisconsin's unique expert witness privilege, an expert's reliance on inadmissible evidence, experts whose opinions "shift" between discovery and trial, and the use of learned treatises at trial.  Her partner, James T. Murray (L'74) then surveyed the law governing the lawyer-client privilege.  Jim focused attention on recurring problems regarding inadvertent disclosures by lawyers, the uncertain contours of the privilege where the client is a corporation, and the sticky problem of contacting employees, officers, and ex-employees of a corporate entity.  Closing the day was Timothy S. Trecek (L'93), of Habush, Habush & Rottier SC, who discussed two subjects that haunt personal injury litigation in particular: the collateral source rule and the admissibility of "other accident" evidence.  Tim addressed recent developments in litigation that have unsettled the long-standing rule that a tortfeasor cannot reap the benefits that might accrue to the plaintiff when, for example, a hospital accepts an insurer's payment for less than the amount of its invoice.  Tim also skillfully laid out the intricate evidentiary steps required when lawyers want to put in proof of other accidents in order to prove causation, notice, or the existence of defects in a product.
             Next year's conference will feature a docket of similarly stimulating issues and distinguished lawyers.  We have the good fortune to draw from the very deep well of Marquette trial lawyers to assist us.