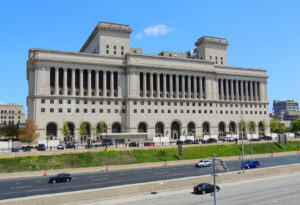 I was asked recently by a reporter about judicial rotation in the Milwaukee County Circuit Court (Judicial Rotation Explained by an Insider). It brought back any number of memories—from my first rotation as a new judge to the rotation decisions that, years later, I was required to make as chief judge. In my new role on the Marquette Law School faculty, I hope in this blog post to provide some additional insight on both the practice and theory of judicial rotation.
In 2004, Chief Judge Michael P. Sullivan assigned me, a newly appointed circuit court judge, to the children's division. I was told that new judges were assigned either there or to the criminal misdemeanor division. Chief Judge Sullivan informed me that I would rotate to another division in three to four years, based on the local rules or practices.
When it came time to rotate to another division, I, along with several other colleagues, tried to convince the new chief judge, Kitty Brennan, that judges assigned to children's court should have the option of permanently remaining in the division or, at least, staying much longer than the four-year maximum. We were convinced that judicial specialization—having judges who are permanently assigned and dedicated to children's court—would ensure the making of consistent decisions in the best interests of children, families, and public safety. We even had national data to support our request.
Chief Judge Brennan was not convinced. Focusing on the local rules, she gave a perspective on the virtues of judicial rotation. She believed that it was not only good to experience other assignments but to meet new lawyers and litigants. Even so, she exercised her discretion, and allowed me to remain at children's court for one more year to finish a project—an unprecedented fifth year.
Thereafter, Judge Jeffrey Kremers was appointed chief by the Wisconsin Supreme Court. He assigned me to the misdemeanor division. where I presided over misdemeanor and felony domestic violence cases. The domestic violence courts were considered problem-solving courts. It was also an assignment where judges would preside over many jury trials, hear countless stories of intimate partner violence and child abuse, and repeatedly see graphic pictures of harm. I had discovered another reason for rotation, which I would also learn to be true in homicide and sexual assault assignments: Rotating judges to other "courts" (technically, other divisions in the same court) could be a salutary and welcomed change—not only for judges but for lawyers and litigants as well, I might add.
Four years later, I asked to rotate back to children's court. I brought with me my better-honed judicial trial skills, knowledge of intimate partner violence and child abuse, and an understanding of the impact of trauma. I was more experienced this time and able to make more refined decisions for families. This broader range of knowledge and skills made me a better judge. It also supported my problem-solving court work in what we called Family Drug Treatment Court and Healthy Infant Court.
My final rotation was to the civil division. Truth be told, I didn't ask to stay in the children's division as I had requested so many years ago. I accepted Chief Judge Maxine White's decision and her reasoning. In the civil division, I would be exposed to different legal issues, meet new lawyers, and use my skills in conflict resolution. It also turned out to help prepare me for my own later role as chief judge.
It was one thing to be rotated in and out of divisions but quite another thing to make rotation decisions. I became chief judge in February of 2020. Along with navigating the pandemic, I had to make significant decisions about rotation. Wisconsin Supreme Court Rule 70.23 addresses the assignment of circuit judges. Subsection (3) states:
The chief judge of each judicial administrative district shall design a plan for the rotation of judicial assignments in multijudge circuits within the district. The plan for each district shall be on file with and have the approval of the chief justice or his or her designee and shall be supervised and maintained by the chief judge as part of the permanent scheme of judicial administration. In designing a rotation plan, the chief judge shall do all of the following: (a) Equalize the workload in an equitable manner considering any special circumstances in each circuit. (b) Assure general jurisdiction availability and competence of all judges in the circuit.
The Milwaukee County Circuit Court rotation plan is published in Local Rule 146. It weighs heavily in favor of giving relatively senior judges their choice of assignment when it is their turn to rotate. It limits service in a division to one four-year term, which means that at least one-quarter of the 47 judges in Milwaukee rotate annually, usually on August 1. There also are "interim" rotations. These occur when there is a vacancy after a judge retires or leaves the bench for other reasons that do not coincide with the annual rotation. The local rule prescribes the process for interim rotations as well. As you can imagine, when a judge leaves, it necessarily means other judges will likely have to move.
About four months before annual rotation, the chief judge asks those who have been in an assignment for three and four years to list their top three choices for rotation. Those choices include the divisions of children's, family, criminal misdemeanor, criminal felony, and civil. There are also intra-division assignments that need to be taken into consideration. For instance, rotating to the felony division could mean an assignment to a general felony, drug treatment court, drugs, guns, or a homicide and sexual assault calendar.
As chief judge, I always met with my leadership team to make rotation decisions. As you can imagine, other judges, judicial staff, and even lawyers often weighed in, one way or another. Finalizing rotation was quite time-consuming and complicated. I was always grateful for the rotating judge who told me to assign him or her "wherever you need me the most." I tried to make sure that judges had the skills, stamina, and competencies necessary for their assignments. I was also mindful of judges' (and their staff's) exposure to significant trauma stories, such as listening to litigants recount their victimization, looking at videos of exploited children, or seeing the aftermath of car crashes. And, as with my predecessors as chief judge, I exercised discretion to make rotation and interim vacancy assignments that were in the best interests of the Milwaukee County Circuit Court.
Judicial rotation has been around for more than 40 years. It gives judges in Milwaukee County an opportunity to experience different divisions, meet a wide variety of lawyers, and build different skills sets. It can also be a chance to take a much-needed break from presiding over particular kinds of difficult cases. Up-to-date Chief Judge Directives, including those related to rotation, can be found here.