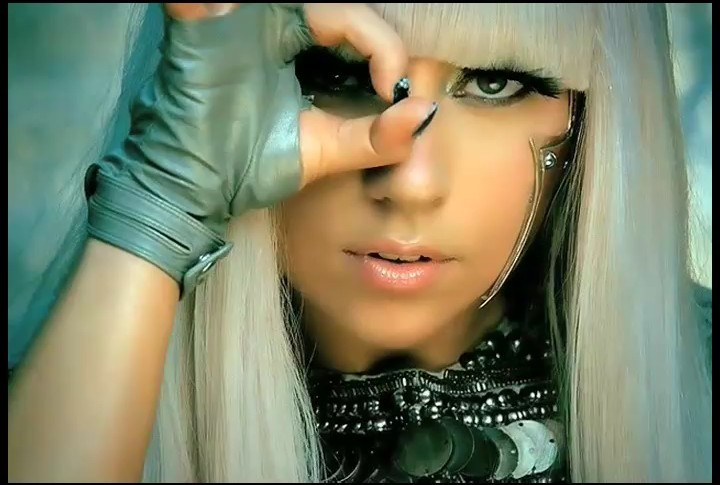 Yesterday, I posed the following questions: What is identity? As we define the right, should we only protect a person's authentic identity (name, likeness, voice, etc.), or do we protect that constructed identity? Are Madonna's many personas as valid as Janet's one? These questions of authentic and constructed personas are still very much an issue in today's video culture. Our current great video stars, Lady Gaga and Beyonce, have often played with this question of authenticity versus construction.
In fact, I would argue that Beyonce and Gaga can be seen as "baroque" versions of the authentic Janet and the constructed Madonna. Beyonce heightens the authentic tradition in her videos. For example, in the video "Crazy in Love" she sings, standing next to the man who would become her husband, Jay-Z, about how much she loves him. Like Janet, Beyonce uses her given name. Lady Gaga, very obviously, extends the constructed tradition. In the video for "Bad Romance," Lady Gaga changes personas fourteen times in one video. Lady Gaga makes us call her Lady Gaga.
Lately, however, Beyonce and Lady Gaga themselves have sought to confuse these boundaries, between the authentic and constructed, through their two videos "Videophone" and "Telephone." 
"Videophone" is very much within the tradition of the "authentic" video persona (the video is shot in black and white, Lady Gaga is in white the entire time, and even the choreography re-visits previous Beyonce's videos). By contrast, "Telephone" (which clocks in at 9:30 minutes) is an extended play on constructed personas where both Lady Gaga and Beyonce play with any number of personas, and indeed in the penultimate scene, use the trope of a traditional authentic video (lunch with boyfriend in diner) to poison all of the participants.
Thus, these videos attempt to bridge the authentic and constructed identity, and then question it even more by asking, is there a difference? Are our authentic selves "constructed"? Our "constructed selves" authentic?
All of this is interesting to me because it raises the question of whether we should be protecting this right of publicity in the first place. What are the markers of identity? How can we judge what is the best protection for identity if we cannot decide what is that constitutes those "indicia" of identity?
And I have not begun to delve into Minor Threat, OK GO, Nirvana, Sleator-Kinney, and the authentic DIY Alternative Music Video!