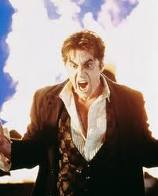 I rather liked Rebecca Blemberg's post on lawyer happiness and virtue ethics and would like to extend the discussion. I agree that one of the mistakes a lawyer can make is to follow the lure of a consequentialism that is divorced from her knowledge of herself and what that tells her about the way in which she should practice law.
We normally associate this with pursuit of the shimmering rewards of legal practice such as money or glory. Rebecca is right to suggest that these things, in and of themselves, will not make for a happy career. I know plenty of lawyers who love the practice while making tons of money and winning lots of cases, but their happiness as lawyers (and perhaps their success) has another source.
But it seems to me that one can become unhappy in the law by pursuing what might be seen as selfless objectives as well. Thus the picture of Al Pacino as Milton in The Devil's Advocate.
My friend Teresa Collet (St. Thomas) uses the final scene in The Devil's Advocate in lectures on professional responsibility.  Keanu Reeves' character, having chosen a "selfless" course is hounded by reporters promising to make him a star. The movie ends with Pacino as Satan – whose temptations we might have thought Reeves as having resisted – breaking the fourth wall. "Vanity, definitely my favorite sin."
One can go to work as a public defender or legal services lawyer because one believes it is praiseworthy and  will lead to the gratitude of one's clients or the approbation of the community. However, virtuous this may be, doing it for the praise of others is also, depending on how you frame it, a consequentialist and deontological strategy.
I know many lawyers who represent poor people who are very satisfied with the the practice but, again, that satisfaction lies else where.
Rebecca's invocation of virtue ethics is a pretty good take on where satisfaction might lie. It is perhaps a small quibble, but I would suggest what is (at least to me) a slightly broader ethics – call it an ethics of personal ontology. A nickel summary would be the old cliche – "to thine own self be true."
The lawyers that I know to be happiest believe their practice is valuable and consonant with who they are as people. and allows them to use their gifts in a way which is consistent with their personal morality and of value to their clients. To identify what that is requires subjectivity- that's the easy part – but it also requires intentionality.  A lawyer must resist being swept along by the currents of his life. Having not always avoided that, I can say to younger men and women that it is an easy and deceptive trap.
Finally, I have one elaboration and one qualification.
The elaboration: Rebecca properly worries about those whose concept of virtue is, should we say, skewed and sees consequentialist (fear of getting caught?) and deontological (recognition of the rules) as necessary correctives. She is absolutely right.
My own little addition – as someone who believes in moral complexity rather than moral relativism – is to suggest that those who do have disordered concepts of virtue are unlikely to be happy. My own sense is that, at the end of the day, very few of us claim to be or are moral relativists. Professional dishonesty is intrinsically wrong. It will not make you happy. At least not for long.
The qualification: Personal happiness is not a simple function of professional happiness. A true ontological ethic will recognize that we seek happiness from other sources as well such as friends and family. These can qualify the pursuit of one's professional ethic and professional satisfaction. I might say – in fact I would say – the moving to academia was the best professional choice I have made and that, in some sense, I should have done it a number of years ago. But when I was a single father with significant financial obligations, it would not have worked as well.