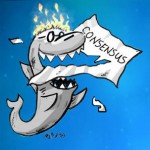 Professor Calboli made an interesting point in her comment to one of my previous posts, where she used the phrase "respecting others' positions." This gave me an idea for another post. What does it mean to respect others' positions? Values-based disputes are often very hard to negotiate and accordingly, mediators are introduced to help bridge the gap. A problem I have witnessed, at least in my work, is that mediation is overly used and valued. Consensus is sought for consensus' sake and mediation is implemented without any regard to negotiative theory. There are times when people will not, and based on their values, should not agree. If one's best alternative is preferable to what is offered at the table, one should walk away from the table. If one's bottom-line cannot or will not be met, it is both self-deceptive and disrespectful to continue to push for "consensus." Having twenty conversations in order to change the plan of care to something more in-line with what you want is not truly consensus—in some ways, it's possibly coercive.
This does not mean people should shut down and stop working toward their goals; it merely means that people should seek to achieve their goals away from the table.If parties' positions are in direct conflict, it is respectful to acknowledge them as valid and worthy positions to have (rather than assume that they have less value and should change). At that point in time, transparency in process is more important: "Ok. We disagree. We are now going to do X (such as, seek guardianship over your child in order to provide treatment you are refusing). Here are available resources for you to contact in order to respond (lawyers sensitive to area, advocacy groups, etc)."
Respect goes both ways and does not equate to complete acquiescence.  Disagreement can occur without losing compassion.
Thank you, Prof. Calboli, your comment was excellent.