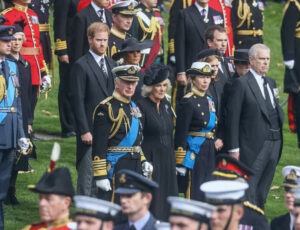 As a former Milwaukee County Circuit judge and Wisconsin Supreme Court justice, I have watched people try to resolve highly emotional and upsetting conflict through the legal process or by use of (social) media. For the last 25 years I have become convinced that we need to offer hurting people restorative approaches—a forum in which each person can be truly heard, and their concerns addressed while managed by experienced and sensitive facilitators/mediators to help the parties work toward healing. As a result, our Marquette Law Andrew Center for Restorative Justice provides people, neighborhoods and institutions support for transformational restorative processes.
The recent death of Queen Elizabeth has brought the Royal Family together, albeit for a somber occasion. Nevertheless, this reunion has re-surfaced conflicts that appeared dormant (at least within the American news cycle) – specifically, those related to Meghan Markle and Prince Harry. As we watch how the royal conflicts unfold, it seems that the Royal Family may benefit from restorative justice processes to begin mending their relational rifts now on public display. So, I posed a thought experiment to the students in my restorative justice class this fall: what should restorative justice within the Royal Family look like?
Students recognized location – a neutral one – as foundational to the success of any royal restorative justice endeavor. Several suggested Switzerland, because of its distance from the United Kingdom, its many secluded towns, and the country's commitment to neutrality, peace, and refusal to involve itself in violent or pollical conflicts with other countries. Students also correctly recognized the importance of confidentiality and privacy to a restorative justice gathering of the Royal Family, especially considering the Family's historic distaste for and disinclination towards any public airing of intra-family grievances is well known.
Finally, there comes the process, and most importantly, what to address and how to address it. Obviously there would be extensive preparation (including deep listening by the facilitators) before any gathering of family members. Practically all the students suggested dialogue as the procedural format, and that it be led by one or more experienced facilitators/mediators. After listening and talking to everyone individually or as a couple, the facilitator must work out an agenda for the first meeting. That agenda might include a discussion to the traditions of royalty and a need to maintain them as well as how those rules might govern Meghan and Harry as well as their children.  Students differed regarding which topics to address first, as well as which participants should hold the primary focal point. Some proposed that the entire family begin discussion centered on racism as its manifestation in the Royal's Family's treatment of Meghan Markle. Others urged a family-wide discussion focused on the treatment of in-laws in the Royal Family, while others thought that the topic should involve a discussion on addressing mental health issues. There also rose the proposal that a dialogue should begin attentive to the unique trauma of growing up in the Royal Family, and that perhaps the initial sessions be limited to King Charles III and his sons, Harry and William. Ultimately the agenda needs to be driven by the desires of the respective parties to a dialogue, with a commitment by all of confidentiality.
While any one of these procedures and topics could work for the Royal Family, what is most important is that the family members show up and open to truly hearing one another and to grappling with many of the sore truths that have historically and continually effected members of the Royal Family.  And here, the current family, led by King Charles III, may have an opportunity to shape their legacy and demonstrate profiles in leadership through dialogue and healing.
If you're not registered, you may want to attend our October 11 Program – The Healing Impact of Restorative Justice: A victim mother shares her story.  And see first-hand the impact that restorative justice can have.