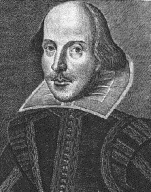 Last Friday I had the pleasure of listening to an interview on WPR with Stephen Marche, author of the book, How Shakespeare Changed Everything.*
During the interview, Mr. Marche talked about how many English words were first used by Shakespeare.  Lawyers can thank Shakespeare for words like "negotiate", "compromise", and "circumstantial".** The conventional wisdom is that Shakespeare invented those words, although Mr. Marche acknowledged that Shakespeare may really have been the first person to write down words that were already in use at the time.  (I think the latter may be more likely, although I do not claim to be an expert on this matter.)
The interview got me thinking about references to the law in Shakespeare.  A quick search online referred me to a 2009 conference at the University of Chicago Law School on "Shakespeare and the Law."  Another quick journal and law review search on Westlaw showed a number of references to Shakespeare.
Do any of our readers have a favorite Shakespeare passage or play?  What are your thoughts on Shakespeare and the law?  What influence, if any, has Shakespeare had on the public's view of the law and lawyers?  Did Shakespeare use legal concepts correctly in his plays?  Do you think that Shakespeare really coined all the words for which he is credited?  Is there anything that lawyers can learn from reading Shakespeare?
I very much look forward to reading Mr. Marche's book.
*For more information on the interview, please see the Wisconsin Public Radio (WPR) website.  Veronica Rueckert interviewed Stephen Marche on Friday, July 22, 2011 at 9:00 a.m.
**According to the list of Shakespeare's invented words posted at http://www.shakespeare-online.com/biography/wordsinvented.html.