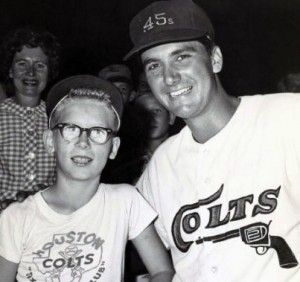 The 2012 season will mark the 50th anniversary of Houston's National League team.  (Somewhat ironically, this happens just before the team is shifted to the American League.)  To commemorate this milestone, the Astros have scheduled a number of "throwback" games during the 2012 season.  In honor of the team's entry into major league baseball as an expansion team in 1962, players on the team will wear uniforms from that inaugural season.
As many baseball fans know, the Astros was not the team's original name.  That name was adopted only in 1965 when the team moved into its new park, the Houston Astrodome, then billed as the 8th Wonder of the World.  Prior to that, the team was known as the Houston Colt .45s, a name that made reference to the famous handgun associated with the "winning" of the American west.
Logically, in the "turn back the clock" games scheduled to honor the original Colts (as they were usually called), the current Astros will be wearing facsimiles of the original uniforms that featured the word "Colts" and a drawing of the famous handgun on the front of the jersey.  (See the accompanying photo.)
However, Major League Baseball has apparently refused to authorize the use of the original uniform design unless the Astros agree to remove the picture of the pistol from the jersey.  Under current operating rules, MLB apparently has the power to veto uniform modifications, and the Astros have indicated that they plan to comply with the request.
For the past several decades, the people who run MLB have claimed to have a deep respect for the game's history.  This is certainly an odd way to show respect, and one has to wonder what will be next.   Perhaps ballpark walls will soon feature doctored photographs showing black players participating in major league games in the 1920's and 1930's.