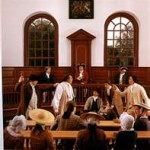 I had the privilege of working with three exceptionally fine teams this year: our two National Moot Court Competition teams and our Spong Tournament team. Two teams advanced to the quarter-final round of their respective competitions, and one team earned especially high oral argument scores.
Today the Marquette team advanced to the quarter-finals of the 2012 William B. Spong Moot Court Tournament at William & Mary School of Law. Please congratulate team members Dieter Juedes, Joseph Gorndt, and John Shanahan. The team placed within the top 8 of 26 teams who were invited to participate in the competition. Attorney Nicole Nellessen was the team's practitioner coach. Alum Cliff Steele came here from Florida to brave several weeks of our Wisconsin winter to assist in oral argument preparation. Thank you to both.
History buffs will be interested to learn that George Wythe, an early professor at William & Mary, started the first moot court in the U.S. in 1780. A person may visit his home while in Colonial Williamsburg and learn more about his passion for moot court and the law.
Our Marquette National Moot Court Competition (NMCC) teams performed well in the fall at the Region VIII competition held at Marquette and should be congratulated. The team comprised of Jaclyn Bielefeld, Aaron McCann, and Anthony Prekop advanced to the quarter-finals. Our other team, consisting of Susan Barranco, Rebecca Manz, and Dana Pierson, distinguished themselves in their high oral argument scores.  The NMCC is hosted by the New York City Bar and the American College of Trial Lawyers. Over 150 law schools compete across the country.  Thank you to our NMCC practitioner coaches: Attorneys Jesse Blocher, Michael Cerjak, Alyssa Dowse, and Jason Luczak.
I am grateful not only for our teams' hard work in both competitions, but also to the many judges and lawyers who judged the briefs and oral arguments for our NMCC regionals. Thank you also to the individuals who judged the teams' numerous practice rounds.