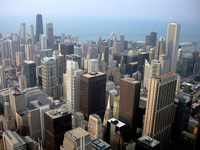 Marquette University Law School and the Milwaukee Journal Sentinel will host a conference next week. The conference title—"Milwaukee's Future in the Chicago Megacity"—reflects that Chicago is one of the world's emerging "megacities"; for example, it is ranked No. 6 in Foreign Policy magazine's Global Cities Index (behind only New York, London, Tokyo, Paris, and Hong Kong). An expansive new report by the international Organization for Economic Co-operation and Development argues that closer ties between the Milwaukee region and Chicagoland are of singular importance. At our conference, various panels, involving business leaders, elected officials, and public policy analysts, will assess that argument, with a general eye to these central questions: how closely should the Milwaukee region connect its future to Chicago, and how might that be accomplished through public policy and business might?
Conference participants will include Milwaukee Mayor Tom Barrett, Cook County Board President Toni Preckwinkle, Wisconsin Economic Development Corporation CEO Paul Jadin, ManpowerGroup CEO Jeff Joerres, WE Energies CEO Gale Klappa, Federal Reserve Bank of Chicago Vice President William Testa, and Greater Milwaukee President Julia Taylor—to name fewer than half (a full list is available here). Richard C. Longworth, author of Caught in the Middle: America's Heartland in the Age of Globalism, has prepared a framing paper in advance of the conference (available here in full form and in abridged form here as an op-ed in this past Sunday's Milwaukee Journal Sentinel), and John Gurda, Milwaukee historian and conference participant, has also written in the newspaper in advance of the conference about Milwaukee's and Chicago's historical relationship.
The Law School's participation in this conference, which will involve Mike Gousha, distinguished fellow in law and public policy, is underwritten by our Lubar Fund for Public Policy Research. We announced that initiative during the 2010-2011 academic year, and this is its debut.