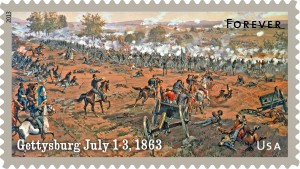 Part of the Army War College curriculum at Carlisle Barracks involves the study of past battles. While a student at the War College this last June, I spent several hours at nearby Gettysburg Battlefield as part of the College's National Security Seminar. Consideration was given to issues of command and control as well as tactics. There was much to be learned from this pivotal battle.
We began the tour on the ground defended by the Iron Brigade (also known as the Black Hat Brigade). The Iron Brigade, with many soldiers from Wisconsin, suffered the highest percentage of casualties of any brigade in the Civil War. The Iron Brigade played an important role in slowing down the Confederate advance until more Union troops arrived in Gettysburg.
Having read about the Battle of Little Round Top—one of several key fights in the battle, walking around the scenic (and now peaceful except for the sound of tour buses) hill (and its neighbor, Big Round Top) one could only wonder at the ferocious fighting that took place there.  
On Little Round Top, Col. Joshua Chamberlain, a professor of rhetoric in civilian life, led a heroic bayonet charge to turn back the attacking southern troops. Col. Chamberlain received the Medal of Honor for his valor and was later promoted to major general. Returning to civilian life, he served as president of Bowdoin College and four-time governor of Maine (winning his third election with over 72% of the vote).
Later, standing on Cemetery Ridge and looking nearly one mile to where the Confederates assembled for the "charge" (actually more of a march), it was difficult to understand how men could march that distance, in the open, and under heavy musket, rifle, and artillery fire. Such courage. Such discipline. One could also appreciate the apprehension of the Union soldiers on the ridge watching over 15,000 soldiers marching towards them. The Union soldiers did have a rock wall for shelter, but I saw the actual wall. It isn't even knee high.
I stood on the spot where Lieutenant Alonzo Cushing (born in Delafield a half-mile from my house) commanded a battery that was instrumental in stopping the charge. Cushing was wounded numerous times but continued to fight. First, a shell fragment went straight into his shoulder. Then a shell fragment tore into his abdomen and groin exposing his intestines. Cushing held his intestines in place with his hand as he continued to command his battery. After these injuries an officer yelled at Cushing, "Cushing, go to the rear." Cushing, due to the limited number of men left, refused to leave. The severity of Cushing's wounds left him unable to yell his orders above the sounds of battle. Cushing's First Sergeant, Fredrick Füger, held Cushing up and passed on his commands. Cushing was killed when a bullet entered his mouth and exited the back of his skull. He died on the field at the height of the assault, having played a key role in stopping Pickett's Charge.
Surviving the battle, Sergeant Füger, a native of Germany, was awarded the Medal of Honor and later given a battlefield commission. Füger retired from the Army in 1900 at the age of 64 after 42 years of active service.
Belatedly Cushing was nominated for the Medal of Honor, in the 1980s. On August 26, 2014, the White House announced Cushing would be posthumously awarded the Medal of Honor. The campaign for the award was begun in 1981 by a 94-year-old neighbor of mine, Margaret Zerwekh, an amateur historian. She persistently lobbied Wisconsin's congressional delegation to pass a law waiving the time limits for awarding the Medal of Honor. In an interview with USA Today, Ms. Zerwekh stated, "He saved the union is what he did."
While on walks through Delafield, I occasionally see Ms. Zerwekh being pushed in her wheelchair by her daughter. A few days after the August announcement that Cushing had been awarded the Medal of Honor, I encountered Ms. Zerwekh near Cushing Memorial Park. I congratulated her on the results of her dedication and perseverance. I commented that Lt. Cushing made the difference at Gettysburg. She admonished me, "They all did their part."
Although a visit to Gettysburg Battlefield is historically interesting, it is also a reminder of the sacrifices men and women have made in the service of their country. The Battle of Gettysburg was the bloodiest battle of the Civil War with approximately 50,000 casualties in three days. Despite the "General Pickett's Buffet" sign visible from Cemetery Ridge, the Battlefield is truly hallowed ground. Abraham Lincoln said it eloquently in his Gettysburg Address:
But, in a larger sense, we cannot dedicate, we cannot consecrate, we cannot hallow this ground. The brave men, living and dead, who struggled here, have consecrated it, far above our poor power to add or detract. The world will little note, nor long remember what we say here, but it can never forget what they did here. It is for us the living, rather, to be dedicated here to the unfinished work which they who fought here have thus far so nobly advanced. It is rather for us to be here dedicated to the great task remaining before us—that from these honored dead we take increased devotion to that cause for which they gave the last full measure of devotion—that we here highly resolve that these dead shall not have died in vain—that this nation, under God, shall have a new birth of freedom—and that government of the people, by the people, for the people, shall not perish from the earth.
Each Memorial Day, Delafield recognizes these sacrifices. Uniformed Civil War re-enactors conduct a memorial service including an artillery salute. It is a moving ceremony with a large obelisk honoring the Cushing brothers, a monument to the unknown Civil War soldier, and a marker where the Cushing home stood in the background and the beautiful Bark River in the foreground. (For another amazing story of heroism, read about William Cushing.)
I continue to be moved by the sacrifices our service men and women have made and are making in order to protect and defend our country. They do so out of love of country, without expectation of thanks or recognition. They do their part.
Their selfless dedication to our freedom is what inspired Sharon and me to join with others to begin an endowed scholarship for veterans at the Law School. It is a way to express gratitude for all they have done on our behalf. So far, we have secured contributions accounting for over 60% of the funding required for the scholarship to begin making awards to eligible recipients.
I encourage you to consider joining with us and expressing your thanks in a manner that will help minimize the financial sacrifices veterans and their families need to make to attend Marquette Law School. To learn how you can do your part and make a difference in the lives of our veterans, please contact John Novotny, Senior Director of Development for Marquette University Law School, Marquette University at john.novotny@mu.edu
Suggested reading:
"The Killer Angels" by Michael Shaara. A Pulitzer Prize winning novel that conveys the human side of the battle.
"Gettysburg: The Last Invasion" by Allen C. Guelzo. This 2013 account of the Battle of Gettysburg is the best book on the subject. Nearly every student at the Army War College has read it.
"Cushing of Gettysburg: The Story of a Union Artillery Commander" by Kent Masterson Brown. A nicely written and researched biography of Alonzo Cushing.
"Commander Will Cushing: Daredevil Hero of the Civil War" by Jamie Malanowski. Published in 2014. If this book were fiction you would not believe Commander Cushing's exploits. Every bit of it is true!
"Lincoln's Commando: The Biography of Commander William B. Cushing, U.S. Navy" by Ralph J. Roske, W. B. Cushing and Charles Van Doren. One of the co-authors of this interesting book was made famous by a notorious quiz show scandal in 1957.