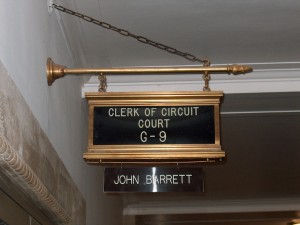 Throughout the history of legal education, there has been a consistent call for greater levels of experiential learning and especially clinical education in the law school curriculum. This call has received renewed strength in the Carnegie Report released in 2007. It reminds us again of the importance of building skills for lawyering, for serving as counselors to those who seek our assistance.
Marquette University Law School, for over thirteen years, has been polishing a gem that provides our students with a rich opportunity to some of the very skills required to be an effective lawyer (you might remember the list from the first blog…communication, listening, writing, negotiation and time management, to list only the top five survey responses). This gem is the Small Claims Mediation Clinic.
The Small Claims Mediation Clinic is housed in the Milwaukee County Courthouse and provides pro se litigants an opportunity to access student-led mediation services in an effort to resolve the disputes themselves. This program was the brainchild of former Wisconsin Supreme Court Justice Janine Geske and I have had the honor and privilege to work with Janine at the Clinic for several years and have served as the faculty member for a number of semesters.
It may seem as though the litigants are the beneficiaries of the program however, I would tell you that based on my own experience, our students receive an enormous benefit as well. After a brief and intensive training program, students jump in and begin mediating and they have the support of a peer observer and a supervising mediator each time. The goal of the meditation sessions is not agreement, rather, as I tell the students, the goal is to allow the mediation process to unfold and see where it takes them. In the time we have together, they hone many of the skills that are so critical to their long-term success.
They come to learn so much in the twelve weeks of the Clinic both about themselves and about the conflicts that bring the parties to the Courthouse. They learn that they can be effective listeners and that doing so empowers the disputants who may have come to the Courthouse feeling that they have no voice. Being heard is so very important, for all of us. They learn that at the root of nearly every dispute lies a communication breakdown and they begin to understand why communication and its component skills of effective speaking, listening and inquiry are so critical to one's success.
They learn to negotiate as a neutral, being stewards of the process and in doing so, they help the parties successfully negotiate with one another. Sometimes the process leads to an agreement, sometimes it does not, yet each time, there is information that is shared that had not been previously shared and, as I tell the students, "they are planting seeds". For some litigants, the seeds sprout immediately and agreements are crafted to satisfy everyone sufficiently. For other, the seeds may sprout later and the parties may reach an agreement before their next court date.
The students learn time management. We begin our Clinic at 9 am and end at noon. The Commissioners work hard to identify cases that may be amenable to mediation and we take as many cases as they can mine. Sometimes, a case is identified at 9 .m. and the student-mediator has nearly 3 hours to try and work the process. Other times, a case is called at 11:30 a.m. and the student-mediator must adapt and use the time available to nonetheless try and mediate the dispute. They learn that time is a precious resource and that when time is limited, the job must still be done and done well.
Finally, our students learn that emotions are inextricably linked to every dispute and that they cannot disregard them or step around them. These too require a level of communication and acknowledgment so that they do not remain obstacles to effective problem-solving. These cases are not cold facts on the page of a casebook. These cases bring real people with real emotions and real problems who have come looking for help. Some are angry, some are scared, some are hurt, some are confused and all of these feelings play a part in how the mediation will proceed. Our students learn to embrace the totality of the information that the parties bring and to use it as they lead them through the mediation.
It has been my privilege to have worked with Janine Geske, the Courthouse staff and the many MULS students who have participated in the Small Claims Clinic. The learning experience is rich and it touches everyone who participates; we all leave each week having learned something that will make us better lawyers and likely, better people. May this gem continue to shine for many years to come.