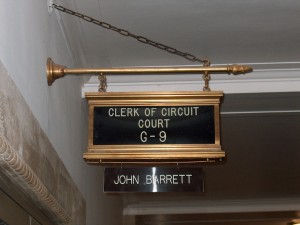 Throughout the history of legal education, there has been a consistent call for greater levels of experiential learning and especially clinical education in the law school curriculum. This call has received renewed strength in the Carnegie Report released in 2007. It reminds us again of the importance of building skills for lawyering, for serving as counselors to those who seek our assistance.
Marquette University Law School, for over thirteen years, has been polishing a gem that provides our students with a rich opportunity to some of the very skills required to be an effective lawyer (you might remember the list from the first blog…communication, listening, writing, negotiation and time management, to list only the top five survey responses). This gem is the Small Claims Mediation Clinic.
The Small Claims Mediation Clinic is housed in the Milwaukee County Courthouse and provides pro se litigants an opportunity to access student-led mediation services in an effort to resolve the disputes themselves. This program was the brainchild of former Wisconsin Supreme Court Justice Janine Geske and I have had the honor and privilege to work with Janine at the Clinic for several years and have served as the faculty member for a number of semesters.