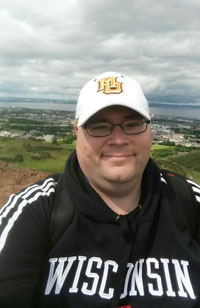 On top of a dormant volcano in Edinburgh, I took in the breath-taking view of the city (I also needed to take a breath after climbing for nearly two hours). I stayed on Arthur's Seat for an hour, quietly reflecting about the previous two months and just how transformative they were for me.
In fact, I'd go so far as saying this summer is fundamentally life-altering.
I had a rare opportunity to study law abroad in London with Syracuse University for seven weeks. I've rarely been outside of the Midwest, much less the United States. Even though I had a passport, I never found the right reason to go out of the country.
This experience was the right one.
I flew out of O'Hare on May 20 not sure what to expect of the program, nor of myself. Everywhere I've moved in my life, I've always known at least one person or had family within two hours of where I was at.
In London, outside of one classmate who I hadn't seen since high school and only maintained touch through Facebook, I knew absolutely nothing. Getting around the London Tube was an experience in its own right, but I knew I'd be alright when I saw a tube stop that said "Arsenal" on it. As a fan of the Gunners, it was a comforting sight for some sore eyes. I'll save my sport-experience in the United Kingdom for another post, but Arsenal will feature prominently there as well.
I got settled in at our flat in Waterloo (a five-minute walk from the London Eye) and started meeting my flat-mates. From there, we had our official orientation to the program in Faraday House near Holborn Station. We opened the program with a week of law classes designed to help us understand the differences between law in the United States and law in the United Kingdom as well as the European Union.
I was given two options for my placement: work for a barrister and not have a lot of variety, or work for Unite the Union and deal with less law on a day-to-day basis, but more policy and a possibility of some sport law. I chose Unite because at minimum, it would be labour law on a daily basis and that skill set can transfer back to the States.
I worked within the Education Department for Unite the Union under the direction of Catherine Whittaker. At first, I essentially job-shadowed as I followed her around to different worker education programs throughout the city. I got to visit Tottenham (boo!) and West Croydon (a strange place to say the least), as well as Shadwell, and got a history of trade unions and what unions mean in the United Kingdom.
In a word — everything.
Unite the Union is the largest trade union in the United Kingdom with more than 1.5 million members. Much like Wisconsin, they see themselves in a fight against the conservative party (Tories over in the UK). What's interesting is that almost every person I met at Unite or through IER knows all about Wisconsin and what's happened to unions within the state. They share no love for Ronald Reagan or Margaret Thatcher, nor are they a fan of Scott Walker for what they perceive as an attack on the working class. I actually had the chance to sit in on Unite's quadrennial Rules Conference in Brighton just before the program ended.
Additionally, I was given the chance to do research for the Institute of Employment Rights, a think tank for the labour movement in the United Kingdom. This would allow me to combine law, policy, and legal research — a bonus especially since I had two law review write-ons during my time abroad. I've had two posts published with another two in current development for future use. My mentor, Carolyn Jones, also introduced me to several key labour QC's (barristers), Keith Ewing and John Hendy, while sitting in on several political meetings.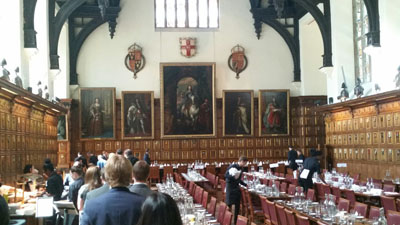 Finally, I took the opportunity to experience things I knew I would likely never get the chance to do again. I visited the Middle Temple Inn and ate lunch on the same table Queen Elizabeth I had, in the original hall where Shakespeare premiered Twelfth Knight. Also at that time, I got the chance try on a barrister's wig.
But the coolest law-related experience was something that Syracuse did not have in its curriculum.
Nickie Chapman, a former high school classmate of mine, works for the Friends of the British Library in London, and she offered me and three other classmates a chance to see the Magna Carta exhibition. This celebration is tied to the 800th anniversary of arguably one of the most important legal documents in human existence.
During the exhibition, I viewed the original Bill of Rights document, Thomas Jefferson's notes on the Declaration of Independence, and video tributes to the Magna Carta from Justice Stephen Breyer and former president Bill Clinton. Finally, the exhibit ended by seeing one of the four original versions of the Magna Carta still in existence. It was a humbling experience, made even more so by the knowledge that three of the original elements of the 1215 signing are still existent in British law.
This experience sparked a passion in me that I haven't felt in a long time. I was excited to go to work every day. Instead of writing as a journalist and maintaining objectivity, I feel as though I can now articulate a position (or advocate) for a client.
I come back a little tired, a little lighter in the pocketbook, but immensely rich in experience and new friends.
Bring on the fall semester and new challenges.​