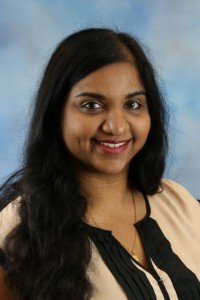 Today, September 24, 2015, the Milwaukee Association for Women Lawyers (AWL) Foundation honored two Marquette University Law School students with scholarships.
Saiba Kapila, 2L (pictured at left), received the AWL Foundation scholarship. The AWL Foundation Scholarship is awarded to a woman who has exhibited service to others, diversity, compelling financial need, academic achievement, unique life experiences (such as overcoming obstacles to attend or continue law school), and advancement of women in the profession. Kapila's grandfather was a nonprofit lawyer in a small rural village in India. Inspired by him, Kapila views law as a tool for social change. She does pro bono work and volunteers at the Milwaukee Hunger Task Force and with Wisconsin Special Olympics. She participated in the State Bar of Wisconsin's Diversity Clerkship program, through which she worked at American Family Insurance in the corporate legal division.
Cassandra Van Gompel, 3L (pictured at right), received the AWL Foundation's Virginia A. Pomeroy scholarship. This scholarship honors the late Virginia A. Pomeroy, a former deputy state public defender and a past president of AWL. In addition to meeting the same criteria as for the AWL Foundation scholarship, the winner of this scholarship must also exhibit what the AWL Foundation calls "a special emphasis, through experience, employment, class work or clinical programs" in one of several particular areas: appellate practice, civil rights law, public interest law, public policy, public service, or service to the vulnerable or disadvantaged. Active in student organizations, Van Gompel has served on the executive boards of the Public Interest Law Society, Client Skills Board, Alternative Dispute Resolution Society, and Criminal Law Society. She's also a student advisory board member of the Milwaukee Volunteer Legal Clinic. She's gained experience in a wide array of settings; she's interned at the Seventh Circuit Court of Appeal, the American Civil Liberties Union of Wisconsin, the United States Attorney's Office of the Eastern District of Wisconsin, and the West Allis City Attorney's office. She hopes to pursue a career in governmental and public interest work. As of now, she's already logged more than 170 pro bono hours.
Congratulations to both women for outstanding service and for their representation of Marquette University Law School.