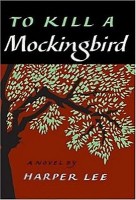 American letters lost one of its legendary figures when Harper Lee died at 89 on February 19.  Lee's beloved To Kill a Mockingbird won the Pulitzer Prize for fiction in 1961, and it was the most popular of all twentieth-century novels by American authors.
Lee's work also ranks at the top in the more specialized world of law-related popular culture.  Atticus Finch, the novel's protagonist, inspired many to become lawyers and to work for equality for African Americans.  Gregory Peck won the Oscar for Best Actor in 1963 for his portrayal of Atticus Finch in the film version of the novel, and the respected American Film Institute has ranked Peck's Atticus Finch as the greatest hero in the history of the cinema.  Heroism is hard to rank, but Atticus Finch is surely popular culture's most important lawyer.
Sadly, Lee's final years were full of controversy.  When she authorized the publication of Go Set a Watchman, a sequel to To Kill a Mockingbird, some questioned her mental soundness.  Others suggested that caregivers and lawyers had manipulated her, hoping that profit from the sequel would mean larger pay-outs for them further down the road.
And Go Set a Watchman was indeed disillusioning.  It revealed racial bias on Atticus Finch's part so severe that his grown-up daughter at least temporarily turned away from her father.  My goodness, was the great crusader for racial equality a bit of a bigot?
For my part, I choose to remember what To Kill a Mockingbird had to say about law and racial inequality.  To wit, law, legal proceedings, and legal institutions must be purged of bias if African Americans are ever to achieve full equality in the United States.  Against the backdrop of police shootings of young African Americans, questionable conduct by prosecutors, and malfunctioning grand juries, the lesson from To Kill a Mockingbird seems even truer than when Lee wrote her extraordinary novel.