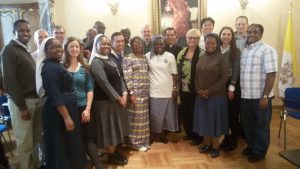 Last spring, I again had the privilege to travel abroad to train people in Restorative Justice ("RJ"). Father Hans Zollner, S.J., director of the Pontifical Gregorian University's Center for Child Protection in Rome, invited me to teach a segment of a diploma course addressing the Catholic sex abuse scandal. Specifically, the training involves safeguarding minors. My students included 19 religious sisters, brothers and priests representing 19 countries. It was an honor to work with such a diverse group of individuals, who are truly eager to repair the harm caused to so many innocent victims. Although I was the teacher, the students provided me with a lesson in hope and perseverance.
They had come to Gregorian University's Center for Child Protection to learn about dealing with past sexual abuse and preventing further incidents. Originally launched in Munich in 2012, the center began educating seminarians, priests and laypeople by conducting e-learning programs and interdisciplinary research on abuse prevention.  The facility moved to Rome in 2015, spotlighting and advancing the Church's resolve to address the issue globally. This year marked the first time the center offered an in-class experience, providing participants with a certificate after four months of training.
Such was the context of my week-long experience in Rome, when I met 19 dedicated religious from Africa, India, Belgium, Mexico and South America. I essentially had a day to expose them to RJ principles. In the morning, we watched "The Healing Circle," an RJ documentary created at Marquette's Law School a number of years ago that depicts how healing circles involving victims, offenders and clergy have been used effectively to talk candidly about sexual abuse and its devastating impact. Hoping that the students could imagine the value of healing circles in their own communities, I immediately saw the emotional power of the presentation, which visibly hit close to home for many in the class. With the second half of the day focused on discussing other effective RJ practices in dealing with abuse, the students had many questions and stories to share.
I'm still shaken by the Mexican priest in the class who described how the founder of his order — someone his community revered and regarded as saintly — was later found guilty of many forms and instances of sexual abuse. From the horrible ripple effect the founder's crimes had beyond the immediate victims to an inescapable personal sense of betrayal, the student described the impact of the Catholic sex abuse scandal on his own faith and vocation.
No less jolting, religious sisters from Africa relayed personal experiences as children. One painfully recalled being touched inappropriately before going to confession — something that kept her away from the Church for a long time as a young girl. Another recounted an uncomfortable physical closeness with a priest; though no touching was involved, it left a lasting impression. Other sisters talked about experiences with children who have been victimized, including those whom priests openly take away from their families for a weekend. The sisters explained how talking to parents is often not an effective solution to right the wrong because many children are also victims of incest.
The passion we shared as a group to help these children was as strong as our dialogue was frank. With 10 of the students as enthusiastic onlookers, a Kenyan priest from the class interviewed me on videotape later in the week to capture for a broader audience how RJ can help repair lives overturned by sexual abuse in the Church. The film will be translated into a variety of languages and subsequently posted as an e-learning component of the Gregorian University's training program.
But much more must be done to have a worldwide impact on healing the harm from the Catholic sexual abuse scandal and preventing it in the future. Listening to the students during my experience in Rome inspired me to start plans for a return trip next year so I may help develop a global "train the trainer" RJ program among students and faculty at Gregorian's Center for Child Protection.
Energized by my 19 students, I sincerely hope to persevere, doing all I can to help people understand why Church sexual abuse is life-altering, creating "life before" and "life after," often with debilitating effects on one's faith. I sincerely believe Restorative Justice has much to offer for "life and faith after."