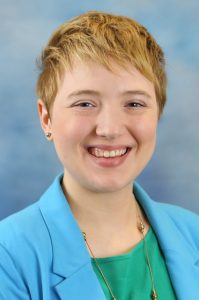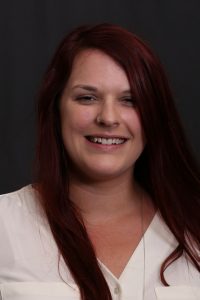 Today, September 27, 2016, the Milwaukee Association for Women Lawyers (AWL) Foundation honored two Marquette University Law School students with scholarships.
Hannah Dockendorff, 3L (pictured at left), received the AWL Foundation scholarship. The AWL Foundation Scholarship is awarded to a woman who has exhibited service to others, diversity, compelling financial need, academic achievement, unique life experiences (such as overcoming obstacles to attend or continue law school), and advancement of women in the profession. Dockendorff's history of serving others began with her father, a U.S. Army sergeant in the Gulf War. She has provided legal assistance for the Milwaukee Justice Center, the Marquette Volunteer Legal Clinic, and Catholic Charities immigration services. In Washington, D.C., on a National Day of Service, she worked with the Catholic Charities of the Archdiocese of Washington to integrate recently released convicts into the community by going to their group home to help them build their meals. In addition to her volunteer work, her school work, and her work this semester with the Wisconsin Department of Workforce Development Equal Rights Division, Dockendorff is the main caretaker for her mother, who has cancer.
Courtney Roelandts, 2L (pictured at right), received the AWL Foundation's Virginia A. Pomeroy scholarship. This scholarship honors the late Virginia A. Pomeroy, a former deputy state public defender and a past president of AWL. In addition to meeting the same criteria as for the AWL Foundation scholarship, the winner of this scholarship must also exhibit what the AWL Foundation calls "a special emphasis, through experience, employment, class work or clinical programs" in one of several particular areas:  appellate practice, civil rights law, public interest law, public policy, public service, or service to the vulnerable or disadvantaged. Roelandts, who is from a law enforcement family, received her bachelor's degree in criminal justice and psychology and went on to receive a master of social work degree. She hopes to combine law and social work in pursuit of social justice. She consistently works with three area pro bono legal clinics assisting with court forms, immigration issues, and domestic violence injunction hearings. She has already completed more than 100 hours of pro bono service and was inducted into the Pro Bono Honor Society in her 1L year. In addition, she is a member of the Marquette Law Review, president of the student American Constitution Society, and an original board member and current secretary for the Organization for Student Wellbeing.
Congratulations to both women for outstanding service and for their representation of Marquette University Law School.