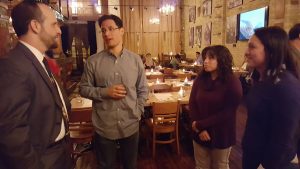 As President of the Wisconsin Hispanic Lawyers Association (WHLA), I have had the opportunity to help foment various partnerships in the legal community. One of the most recent and fruitful of these is our collaboration with the Hispanic Law Student Association (HLSA) at Marquette Law School. While our collaboration began informally, we have recently created a student liaison position on our Board of Directors. Currently, 2L Alex Castro is serving in that capacity. This closer communication with Alex has lead to a number of interesting events.
On October 13, 2016 our associations brought Consul Julian Adem of the brand new Mexican Consulate in Milwaukee to the law school. Mr. Adem presented on the array of functions and services of the Consulate, from providing documents, community education, and legal advice to Mexican nationals, to offering visa services for non-Mexicans who want to travel to Mexico. There was a strong turnout of both students and local attorneys. The information will, without a doubt, help a number of clients and can be shared with the wider networks of those who attended.
The HLSA and WHLA recently held a Meet & Greet at Movida Spanish restaurant in Walker's Point. This allowed law students to talk with practicing attorneys and judges in a social setting. While the tapas and sangria were great, the best part was the conversations. Students shared stories about their classes, professors, internships, and interests, while attorneys answered questions and shared experiences about the practice of law.
Our next event will be a panel discussion to be held at the law school on April 11. It will feature three WHLA attorneys from different practice areas. This will be a chance to go into more depth about the many legal and practical issues that attorneys grapple with on a daily basis. Students will be able to ask the attorneys questions, and engage in a dialogue. My hope is that these types of activities will help law students more smoothly transition into their legal careers after graduation.
The growing relationship between WHLA and HLSA is an example of how Marquette Law School can be a conduit for collaboration. It is a place where academia and the larger legal community can come together to benefit students and the public. Look for more wonderful events down the road as this relationship continues to flourish.
I am also happy to share the news that WHLA, for the first time, will be offering two scholarships of $2,000 each to law students this spring. One will be awarded to a Marquette law student and one to a UW law student. Each university has the details for how to apply.