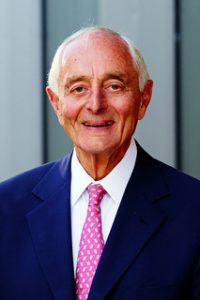 In the announcement of a $5.5 million endowment gift by Milwaukee philanthropists Sheldon and Marianne Lubar to support public policy work at Marquette Law School, perhaps the most important statement came from Sheldon Lubar himself: "There is so much more to be done."
The gift, announced Tuesday, will be added to a $1.5 million endowment gift made by the Lubars in 2010, to create a $7 million fund for continuing support of the efforts of the Law School. The public policy initiative began in 2007 with the hiring of Mike Gousha, distinguished fellow in law and public policy. It has grown to include numerous conferences, candidate debates, the "On the Issues with Mike Gousha" series of conversations, the Marquette Law School Poll, the Water Law and Policy Initiative, and other efforts to further serious, balanced discussion of major issues of all kinds.
"In recent years in particular, Marquette Law School has played a leading role in significant discussions and research on important topics," Sheldon Lubar said. "At the same time, there is so much more to do. We are pleased to expand our support of this work."
The initiative will be named the Lubar Center for Public Policy Research and Civic Education. In addition, the Appellate Courtroom of Eckstein Hall, where many major events are held, will be named the Lubar Center.
Marquette University President Michael R. Lovell said, "Marquette greatly appreciates the faith of Shel and his family in our university's ability to bring greater understanding through constructive conversations."
Joseph D. Kearney, Dean and Professor of Law, said, "Marquette University Law School is deeply committed to serving our community in ways even beyond our primary goal of providing outstanding legal education to our students. . . . We seek to enhance that role and to bring important ideas and people to our community through the Lubar Center for Public Policy Research and Civic Education."
The Lubar Center will support public policy research initiatives and civic education at the Law School and beyond. This includes public events, funding for faculty and staff involved in the center, and research and reporting projects.
The initial Lubar gift has supported numerous research projects and innovative partnerships with journalism entities, including the Milwaukee Journal Sentinel and the Milwaukee Business Journal.
In addition to the Lubar Fund, the Law School supports its public policy initiative with donations from its annual fund.
Gousha said, "Whether it is hearing from candidates for public office, exploring new ideas for addressing policy challenges, or providing independent research, data collection, and analysis, our goal is to be a resource for the region and state."
The full news release announcing the gift may be found by clicking here.