Whenever a new president transitions into the White House, there is almost always a level of uncertainty around how the new administration will handle certain hot button issues now in their purview. As logic dictates, we often look to the newly minted president's campaign promises to ascertain their stance on these issues. But with the election of President Donald Trump, many of us looked to Twitter and old interviews from the then-businessman turned reality TV maven to determine what would come of a myriad of laws and loose ends. One of the laws that many speculated could come under attack is rooted in preventing corporate corruption, and geared towards the promotion of respectable business practices, both domestically and internationally – the Foreign Corrupt Practices Act of 1977 ["FCPA"].
What is the FCPA?
The FCPA ascended from a cauldron of toil and trouble – or more aptly stated, came into existence as a result of corruption, scandal, and an unveiling of the pervasive bribery of foreign officials perpetuated by U.S. companies. The botched break in of the Democratic National Committee (DNC)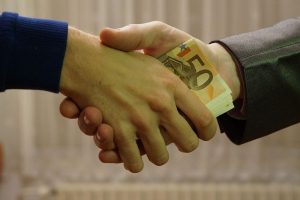 Headquarters at the Watergate office complex ultimately led to the discovery of slush funds used to bribe domestic political parties and certain foreign government officials. In order to conceal these payments, companies misrepresented their corporate financial statements, allowing the cycle of corruption to continue domestically and internationally. These findings not only tainted the view of U.S. businesses, but revealed just how awful corruption is for business. Recognizing the need to restore confidence in U.S. businesses and mitigate future corruption, Congress enacted the FCPA.
The goals of the FCPA are relatively simple: to prohibit the payment of bribes to foreign officials and to require public companies to maintain accurate books and records, internal controls, and transparency related to its financial statements. In the case of its anti-bribery provisions, the FCPA's breadth is far-reaching – it applies to publicly traded companies, including employees, directors, and agents [to name a few] anywhere in the world. Its authority is imposing – both the SEC and DOJ share enforcement authority, meaning violators may incur hefty sanctions and prison sentences depending on the violation. Its bite is lethal – in 2016 alone, a record 53 enforcement actions and $2.43 billion in total fines and disgorgements were the result of FCPA resolutions.
As one could conclude, in its 40 year history the FCPA has established itself as a global change agent, prompting the U.S. and other countries around the globe to strengthen their anti-corruption regimes and conduct business with integrity.
Sounds great! So why the concern about the Trump Administration?
Simply stated, as a private citizen, Donald Trump did not appear to be a big proponent of the FCPA. In fact, in 2012, then layperson Trump expressed his disdain for the FCPA in a televised CNBC interview:
"It is a horrible law and should be changed. We are like the policemen of the world. It's ridiculous."
This left many wondering – what will happen to FCPA enforcement under President Trump?
 FCPA Enforcement Persists
Despite those less than favorable remarks by Trump, the general consensus amongst compliance attorneys and experts is that robust enforcement of the FCPA will continue. Why such a consensus? Well for starters, there are already a plethora of FCPA cases currently in the pipeline – an estimated 80 or so open SEC or DOJ investigations, with another 100 companies that may be the target of an on-going FCPA investigation. Additionally, Attorney General Jeff Sessions has publicly stated that the FCPA will continue to be strongly enforced. One could also point to the government's success with FCPA enforcements, numerous treaty obligations to prosecute foreign corruption, and the fact that civil servants, not the White House, are a driving force of enforcements as clear reasons why FCPA enforcement will continue.
As we approach mid-year, some experts have opined that although enforcement will continue, the Trump Administration will take a more "tender" approach to FCPA case resolutions, as evidenced by the DOJ's recent Linde North American, Inc. and Linde Gas North America declination. Others have used this particular case as an example of inevitable changes to the well-received FCPA Pilot Program. But this is only one FCPA resolution. Only time will tell just how tough the Trump Administration will be when it comes to enforcement. Regardless, it is likely that the FCPA is here to stay, and we will not see any major changes in enforcement any time soon.