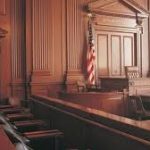 This semester in Professor Lisa Mazzie's Advanced Legal Writing: Writing for Law Practice seminar, students are required to write one blog post on a law- or law school-related topic of their choice. Writing blog posts as a lawyer is a great way to practice writing skills, and to do so in a way that allows the writer a little more freedom to showcase his or her own voice, and—eventually for these students—a great way to maintain visibility as a legal professional. Here is one of those blog posts, this one written by 3L Naomi Tovar.
As of earlier this week, I was one of the few people in law school that had never watched Making a Murderer. I did not even know what it was about. Then last night, I decided to watch the first episode. I thought it was finally time to watch the show, considering that I had recently decided the criminal law field is where I want to grow professionally.
Those decisions (to pursue criminal law and to watch the documentary) were easy. The more difficult decision I have to face, however, is whether I should be a prosecutor or a defense attorney. At first blush, the answer is simple: defense. A defense attorney protects the rights of those who, according the founding law of our country, are innocent until proven guilty. Many times, defense attorneys represent the poor, the marginalized, and the disenfranchised of our society. I came to law school to do exactly that.
Then I binged watched the first six episodes of Making a Murderer and my thoughts changed. All of Steven Avery's defense attorneys were amazing. They argued for the right to a fair trial, the presumption of innocence, and the burden that the State should carry. Their passion was clear in every argument to the court, every cross examination, and throughout their investigation of the evidence. Of course, the way the prosecution is portrayed in the documentary may be slightly skewed. Still, Steven Avery was wrongly charged, convicted, and incarcerated, and then charged with a felony for a second time.
Even in my own experiences thus far, I've seen how defense attorneys sometimes have to deal with unfair, nonsensical charges. How they have to raise issues that should never have existed in the first place, including a wrongful search, seizure, charge, and even fighting for exculpatory evidence that is rightfully theirs. But perhaps if these defense attorneys had chosen to be prosecutors, the rights of defendants, who more often than not are the most vulnerable in our society, would be more protected than they appear to be today.
This idea has been explored by Adam Foss. Adam is a prosecutor who has received numerous awards and recognitions for his trailblazing approach to prosecution work. His TED talk has spread rapidly and has been translated into over 23 languages. Adam has even been asked to train prosecutors in entire DA offices, including the Manhattan District Attorney's Office. His vision of criminal law is definitely worth listening to.
Considering all of this, I cannot help but wonder if life would have been different for Steven Avery if his defense attorneys had chosen to be prosecutors. Their passion for protecting the rights and privileges granted to us by the United States Constitution would undoubtedly translate into their work as prosecutors. They would have had the power to charge only those crimes that they believed there was enough evidence for. Arguably, their investigation of the cases would have been more thorough, and they certainly would have kept the interests and constitutional rights of the defendant in mind throughout the entire process.
The more I think about my passion for defense work, the more I consider prosecution work. Of course, big cases such as Steven Avery's case are rare. And of course, victims have rights and interests that must be protected as well – prosecutors are responsible for the safety of entire communities. But a prosecutor's main role is to bring justice when injustice has occurred, and that includes injustice to defendants. That part of the role is too often overlooked. Being a prosecutor would give me the power to affect injustice at every level, for everyone, and in every situation. That's why I came to law school.