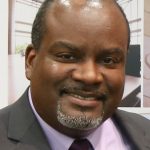 Many in our community will recall Professor Atiba Ellis, who served as Boden Visiting Professor at the Law School during the fall 2017 semester.  He will return to the Law School for the fall 2018 semester—this time as professor of law and a member of the permanent faculty.  We are delighted that he will be joining us.
During his semester as the Boden visitor, Professor Ellis taught a course entitled Contemporary Issues in Civil Rights.  He also participated broadly and enthusiastically in the Law School community, including by delivering a faculty workshop, serving as a featured guest for one of Mike Gousha's "On the Issues" sessions, and being consistently present in the common areas of Eckstein Hall for engagement with students and colleagues.
Professor Ellis joins Marquette Law School from the law school at West Virginia University, where he has been a member of the faculty since 2009.  In 2017, in addition to his semester at the Law School, he served as a Visiting Scholar at Duke University Law School.  Professor Ellis has taught courses in the areas of Election Law, Civil Rights Law, Race and the Law, Property, and Trusts and Estates.  His research and scholarship has focused on voting rights law and theory, critical legal theory, and legal history.  He is a well-established and highly regarded scholar whose work relates directly to matters of great present concern within Milwaukee and Wisconsin more generally.
Please join me in welcoming Professor Ellis (back) to Marquette University Law School.