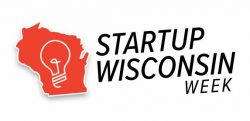 Next week from November 5th to November 11th, Wisconsin is celebrating its Startup Wisconsin Week. Cities across the entire state of Wisconsin will be hosting programs and events geared toward helping Wisconsin grow its startup community. For the entrepreneurial-minded, this week provides an array of opportunities to network, learn tricks of the trade, and become more involved in the startup process. For transitionally focused attorneys, this week offers a variety of opportunities to meet new potential clients and learn more about how entrepreneurs can affect Wisconsin.
Wisconsin itself has a lot of success with maintaining new businesses. According to the Kauffman Index of Main Street Entrepreneurship, out of the 25 largest states, Wisconsin ranks second in small business activity. Out of this same group of states, Wisconsin also ranks fourth for the highest rate of female business owners and fourth with the highest rate of business owners between the ages of twenty to thirty-two. Of equal importance, more than half of the small businesses that start in Wisconsin survive their first five years. Although Wisconsin ranks almost last in startup activity, these numbers all demonstrate the importance that small businesses and the startup community can have on Wisconsin.
In addition to Wisconsin being ranked second for small business activity, the small businesses themselves also contribute significantly to the Wisconsin economy. There are 448,032 small businesses in Wisconsin, which is 99.4% of all Wisconsin businesses. These businesses employ around 1.2 million people, which is almost half of the private workforce. Although 3,126 small businesses exited the market place in the third quarter of 2016, 3,927 entered the marketplace and generated 12,397 new jobs. Consequently, startups not only play an important part in the Wisconsin economy, but once these startups survive their first five years, they can also become a vital part of Wisconsin's very existence.
Because of the significant role that startups and small businesses play in Wisconsin, transactional attorneys looking for new business should focus on how these startups can help them grow their book of business. Entrepreneurs who are starting their own businesses may not be as focused on legal issues, but there are a variety of legal matters that attorneys can counsel them on, such as entity formation, finances, co-founder agreements, intellectual propriety protections, or tax issues. Depending on the nature of an attorney's business, she may be able to provide invaluable advice to a startup and in the process gain a client that has the potential to grow. Attending startup events, such as Startup Wisconsin Week, can help an attorney market herself, establish creditability, and become known in the startup community.
Law students that are interested in transactional work should also consider attending startup events or networking with small business owners. Although law students cannot give legal advice, engaging with small business owners can allow law students the opportunity to gather insight into how entrepreneurs think. If a law student is considering entering into corporate work, understanding the business and the client's needs is a vital part of being a good corporate attorney. This networking can give law students their first glimpse into what transactional work can be like and what questions an attorney needs to ask to understand a client's business.
In addition to attending startup events, students can also get involved in transactional work by looking at their school's offerings of clinics or internships. For example, both Marquette University Law School and the University of Wisconsin's Law School have a Law and Entrepreneurship Clinic. Both of these clinics allow law students to give legal counsel to entrepreneurs and newly created businesses under the supervision of a clinic director. If a law student begins working with startups while in law school, the law student may be more prepared to enter the legal workforce and become a competent transactional attorney.
Overall, startups and small businesses play a huge role in the Wisconsin economy, and the legal community should pay attention. The startup community is vibrant in Wisconsin, and attorneys and law students alike should become involved, if they are not already. Finding interesting events and programs scheduled during Startup Wisconsin Week—and attending them—is a great way to become engaged in this community.