Great to see so many of us at the ABA conference this past week!  We will have blogs soon about conference sessions and lessons…And, in the meantime, here's another from Israel:
Our work out for the week was held at Budo for Peace (BFP). BFP is an innovative non-profit educational organization based in Israel that uses the ethical values of traditional martial arts to empower children while promoting social harmony and peace in the Middle East. Since its establishment 14 years ago, BFP's programs have impacted thousands of children from diverse cultural, religious, ethnic and socio-economic origins throughout Israel and the Middle East, including refugees in Lesvos, Greece.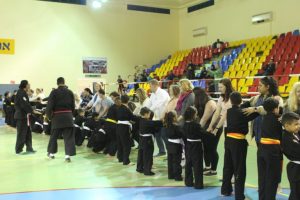 Yamilett Lopez said "When our group arrived, we got to practice some Budo with the children as well as learn about the Budo for Peace's goals of advocating co-existence and dialogue, empowering females, fostering immigrant communities, and engaging at risk youth. Overall, it was amazing to see a sports organization help bridge a divide among communities."  This was both a ton of fun and hilarious!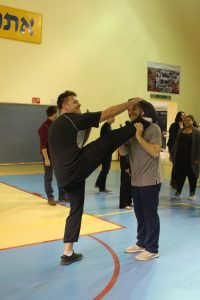 We then had dinner at Juha's Guesthouse in Jisr a Zarqa. Meaghan McTigue noted "The town is the only Arab village on the Israeli coast of the Mediterranean Sea and their guest house is an embodiment of hope in their future. The guest house is the fruits of a Jisr local Ahmed and Jewish Israeli Neta. The unlikely pair partnered with a shared vision and believe in the potential of the town and its people. The guest house serves as an economic asset to the village where guests are encouraged to explore the area and shop from local merchants."
Cross posted at Indisputably.org .