On Thursday, September 22, 2022, the Wisconsin Association of African-American Lawyers (WAAL) honored three Marquette University Law School students with scholarship awards.
VelanDale Scholarship
WAAL is proud to honor the career and legacy of the late Vel and Dale Phillips for the last thirty-two years. In 1990, WAAL established a scholarship in the name of the late W. Dale Phillips to provide scholarships to African-American law students at Wisconsin's two law schools, Marquette University and the University of Wisconsin. In 2004, WAAL proudly renamed the scholarship the VelanDale Scholarship Award to include and honor Vel Phillips' outstanding accomplishments. Vel Phillips passed away in 2018 and Dale in 1988, but their community work and legacy will forever live on. Each year, WAAL awards two law students from our law schools in Wisconsin with this honor.
This year's award winners are Carolyn Carson (3L) and Josiah Jordan (2L).
Carolyn Carson is a 3L. She has been a Law Clerk at Stafford Rosenbaum since the sumnmer. Carson, who is interested in business law, is a member of the Black Law Students Association (BLSA) and the Wisconsin Association of African-American Lawyers (WAAL). She received her Bachelor of Arts degree from Valparaiso University, where she double-majored in Communication and Spanish. She received her MBA from University of Illinois at Urbana-Champaign; while there, she placed 1st at the International Ethics Case Competition.
Carson said her proudest professional moment was winning the Brewed Ideas Challenge, a Marquette University version of Shark Tank. Carson's pitch was based on a haircare business she and her mother started called Nubian's Way. Using all organic ingredients, they offer a Butter Blend that softens coily, kinky hair, so that one can manipulate their hair how they choose, rocking an afro, braids, twists, or dreadlocks. Nubian's Way also offers a Growth Serum for the scalp that encourages hair growth. Beyond hair products, their brand helps to create an atmosphere of self-love and acceptance, challenging societal beauty standards.
Carson's hair products answer the question: how can we celebrate coily, kinky hair? In the legal world, nationwide efforts to address these issues include "C.R.O.W.N. ACT" ("Create a Respectful and Open World for Natural Hair") legislation that prohibits employers from refusing to hire or fire employees because of the protective hairstyles they choose to wear. The C.R.O.WN. ACT was first enacted in California in 2019; a dozen states have enacted similar laws while federal legislation is pending.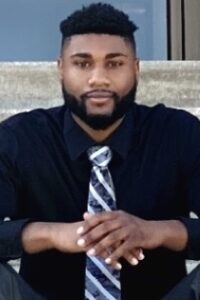 While growing up in a low-income area in St. Louis, Missouri, Josiah Jordan (2L) frequently saw members in his community struggle. At a young age, Jordan knew he wanted to be able to bring about change for residents in his hometown and for residents that lived in areas like it. He always knew that he wanted to be in a profession where he could improve the lives of others, but it was not until college that he decided to pursue a legal career.
At Lipscomb University, Jordan was able to advocate on behalf of his fellow students. With the help of some of his peers, Jordan helped to start up the first Black Student Union at Lipscomb. He was honored by Civil Rights Attorney Fred D. Gray for his commitment to service and justice by receiving the Fred D. Gray Scholarship. This honor motivated him to attend law school so that he could improve his advocacy skills.
As a 1L, Josiah participated in BLSA, pro bono work, and volunteered at the Kinship Food Pantry in Milwaukee. This year, he is excited to serve as the 2022-2023 Community Service Chair for the Marquette BLSA Chapter. Although Josiah does not know what his legal focus area(s) will be after graduation, he desires to have a career where he has the opportunity to serve others and can advocate for those that need advocating for the most.
Honorable Charles N. Clevert Jr. Scholarship
The Honorable Charles N. Clevert, Jr., a long-time member of WAAL, retired in 2017 after nearly 40 years of distinguished service on the federal bench in the Eastern District of Wisconsin. In 2017, WAAL established the Honorable Charles N. Clevert, Jr. Scholarship in commemoration of his retirement. The scholarship honors Judge Clevert's achievements and contributions as the first African-American federal judge in Wisconsin.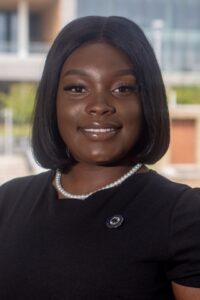 Angela Medcalf was this year's Honorable Charles N. Clevert Jr. Scholarship recipient. Medcalf, a 2L, hails from Charlotte, North Carolina. A proud graduate of North Carolina A&T State University, she earned a Bachelor of Arts in Political Science. Medcalf found her love for the law through social justice organizing with her local NAACP Chapter, where she served as Political Action Chair and President.
At the conclusion of her first year at Marquette University Law School, she had the honor of being inducted into the Marquette Pro Bono Honor Society after completing over 50 hours of pro bono service. Currently, she serves as President of Marquette's BLSA chapter. One of her goals as President is to establish a mentorship program with Black Marquette undergraduate students who are interested in attending law school. Finally, Medcalf is elated to serve as Staff Editor for the Marquette Benefits and Social Welfare Law Review for the next two years.
Upon graduation, Angela plans to stay in Milwaukee and practice trusts and estate and tax law. Her long-term goal is to start a nonprofit that focuses on bringing financial planning services to underserved communities of color. This will allow her to help families implement the best practices needed to maintain economic success and begin building generational wealth for their families.
Marquette University Law School is a proud sponsor of the annual WAAL VelandDale Scholarship Dinner and again congratulations these three students for their outstanding work.