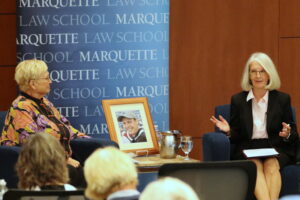 On October 11, 2022, the Marquette Law Andrew Center for Restorative Justice held a public conversation with Mary Kay Balchunas, a mother whose son, a police officer, was murdered in 2004. Professor Janine Geske focused on the positive impact restorative justice can have for surviving victims. She asked Mary Kay to introduce her son to the audience and describe what happened to him. Mary Kay's son, Jay, was covering an undercover shift for a colleague. Jay stopped to get a cup of coffee before starting his shift around 3 a.m. when two boys came up to him, intending to rob him. Anthony Bolden, stood behind Jay while Dionne Renolds stood in front of Jay, pointing a gun towards him. Anthony Bolden went to search Jay for his wallet and felt Jay's gun. Immediately Anthony alerted his accomplice. At that point, Dionne shot Jay, which resulted in Jay's death. Jay's bullet proof vest, which he promised his mother he would always wear on duty, was sitting in the front seat of his undercover car. His vest was still on Jay's front seat as his shift had not started.
During the conversation, Mary Kay reflected on her son's funeral, at which she talked to those present (many police officers) about the importance of forgiveness for the boys who were involved. She also shared the emotions she felt during the trials of the boys who took her son's life. She recalled experiencing empathy towards the boys. Members of their families generally failed to show up or support them during the criminal court proceedings. One of the boy's mothers was subpoenaed to testify but showed up late. When she eventually testified, her testimony only hurt her son's case. In addition, Mary Kay recalls hearing how Dionne never knew his dad, how his brother is also in prison for murder, and how his mother has no photos of either of her sons.
Jay had always encouraged his mother to go back to school and obtain her Ph.D. About a year after Jay's death, Mary Kay went back to Cardinal Stritch University to obtain her Ph.D. by focusing her dissertation on violent crimes. During the time Mary Kay was working towards her Ph.D., she felt the need to visit Green Bay Correctional Institution, the prison where Anthony Bolden was serving his sentence for taking Jay's life. Mary Kay met Janine Geske and attended a three-day restorative justice program at Green Bay. Mary Kay also wrote Anthony Bolden a letter and received a lengthy response. While Anthony Bolden maintains his innocence and denies his involvement with Jay's death, Anthony expressed his empathy towards Mary Kay.
Marquette University Law School's Andrew Center for Restorative Justice was established in December 2021. The Andrew Center's focus is to provide support for victims and communities in the process of healing from the effects of crime. The motivation for the center is the overwhelming positive impacts restorative justice has. The center's future is promising, as Janine P. Geske wants to develop a relationship with the Milwaukee Police Department to provide officers with training on restorative justice. In addition, Marquette Law students will be placed in the community to conduct restorative justice circles. Finally, on March 9-10 there will be a restorative justice conference focusing on the substantial restorative practices of Native Americans and Indigenous persons.
Written by Janine P. Geske, Distinguished Professor of Law and Director of the Andrew Center for Restorative Justice and Madison Bedder, 3L, Andrew Center Research Assistant.