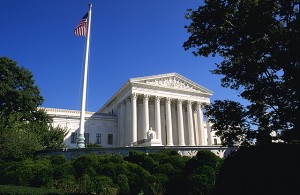 OK, hold onto your seats for some flat-out ERISA law excitement. This morning, the United States Supreme Court heard oral argument in Heimeshoff v. Hartford Life & Accidental Insurance Co. [Briefs at SCOTUSblog], concerning statute of limitation accrual issues for benefit claims under Section 502(a)(1)(B) of ERISA.
RossRunkel.com, as always, gets to the heart of the matter (which is really impressive when you consider it is ERISA after all):
Heimeshoff's disability policy, administered by Hartford, says that a court suit for wrongful denial of benefits has to be filed within three years of when the claimant files a proof of loss with the plan administrator.

That can be tough, given the fact that it's possible for the three-year period to begin to run before the claimant has gone through the administrative procedure that must be followed before bring a suit. I suppose it's even possible in some cases that the three years would run out before the claimant got a final denial.