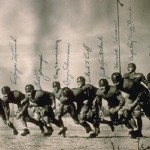 Marquette University eliminated its varsity football team in 1960, and the heroics of the Golden Avalanche, Hilltoppers, and Warriors (as the team was variously known) are now dimly remembered, if at all.  There was a time, however, when Marquette produced a steady supply of players for the National Football League.   Beginning in 1920, a total of 70 former Marquette players found their way into at least one NFL game.
The first Marquette alumnus to play in the NFL was Edward Lewis "Bo" Hanley, a Milwaukee native who played wingback for the Detroit Heralds in 1920, the league's inaugural season when it was known as the American Professional Football Association.   The 5'7", 150 pound Hanley was born in Milwaukee in 1887, and was thus 33 years old during the 1920 season, his only year in the NFL.  When the Green Bay Packers entered the NFL in 1921, their center was 29-year old Marquette alumnus, Richard John Murray, the second Marquette student to play in the NFL.  "Jab" Murray, as he was known, was a native of Ocanto and was 6'1" tall and weighed a hulking 219 pounds. 
The last Marquette player to join the NFL ranks was defensive back John Martin Sisk, Jr. who played for the Chicago Bears in 1964.   Sisk—whose father starred at Marquette in the 1920's and with the Bears in the 1930's—had played at Marquette as a freshman and then had transferred to the University of Miami when the school dropped football.   The last two Marquette football players to appear in the NFL were Minnesota Viking safety Karl Kassulke, who transferred to Drake University after Marquette dropped football and who entered the NFL in 1963, and Dallas Cowboy defensive lineman, George Andrie, who remained at Marquette for his senior year after the school dropped football and was then drafted by the Cowboys.  Both Kassulke and Andrie appeared in the Pro Bowl during their careers—Andrie did so on five occasions–and both appeared in the Super Bowl, albeit on the losing side.  Both players retired after the 1972 season.
However, the greatest of the Marquette alumni in the NFL was clearly LaVern "Lavvie" Dilweg, who played left end for the Milwaukee Badgers and the Green Bay Packers from 1926 to 1934, winning first team all-pro honors six times. Continue reading "Lavvie Dilweg ('27): MU Law's Contribution to the NFL (and to Congress)"