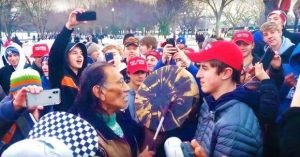 This Friday, January 24, 2020, hundreds of thousands of people will gather in Washington D.C. for the 47th annual March for Life. This year's theme for the March for Life is "Pro-Life is Pro-Woman." Last year's March for Life invited additional news coverage thanks to a video that depicted Nick Sandmann, a high school student, smiling at a Native American elder as the elder beat a drum in front of the student. This initial video made it seem as if the student was mocking the elder. In the wake of this viral video and the news coverage that ensued, there was an immense backlash against the student and his high school. I recall seeing posts on social media listing the email addresses of the school's administrators encouraging people to flood their inboxes with less than courteous emails expressing disapproval of their student's behavior.
However, later video evidence revealed that a group of Black Hebrew Israelites had been yelling racial slurs at Sandmann and his peers, and that the Native American elder approached Sandmann as a way of diffusing the situation between the Black Hebrew Israelites and the students. Moreover, it became clear that neither Sandmann nor his peers were at fault in the confrontation.
Sandmann filed a defamation suit against CNN seeking $250 million dollars for its inaccurate coverage of the confrontation and the emotional distress that he endured as a result. Earlier this month it was released that Sandmann had agreed to a settlement with CNN for an undisclosed amount.