To judge by some of the political rhetoric last fall, violent crime must be surging in our nation's cities. Is that true? The answer may depend on which city you are talking about, and which neighborhood within that city.
Consider the contrast between Chicago and New York. The Windy City had about 762 homicides in 2016, while the Big Apple had just 334. The difference is shocking, especially when you consider that New York has three times Chicago's population.
To some extent, the contrasting figures from 2016 reflect longstanding trends. Although murders did spike in Chicago last year, New York has been doing better than Chicago on this score for a long time. The two cities had essentially identical per capita homicide rates in the late 1980s, but New York's fell much faster and further than Chicago's in the 1990s. New York has maintained a wide advantage ever since.
Still, the dramatic widening of that advantage in 2016 should be of great concern to Chicagoans. The chart below indicates the trends in recent years, based on FBI data. Note that the two cities moved in sync from 2013 through 2015: homicides down the first year, basically unchanged the next, and then up a little in 2015. However, in 2016, even as Chicago's homicides shot up, New York's dropped back down to where they had been in 2013 and 2014.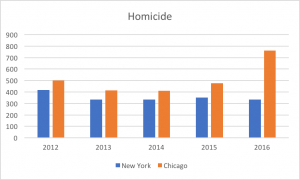 One should not get the sense, however, that one faces a dramatically elevated risk of violence throughout the Windy City.   Continue reading "Chicago, New York Heading in Opposite Directions on Crime; Where Does Milwaukee Stand?"