Posted by: Alan J. Borsuk
Category: Education & Law, Marquette Law School, Speakers at Marquette
Leave a Comment »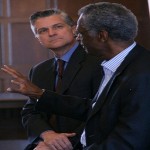 Who knows better the challenges and problems of heading up the Milwaukee Public Schools system than the people who have done it previously? 
While former MPS superintendents have generally adhered to a policy of not speaking up on what their successors ought to do, four people who have held the top post in the system will appear together at Marquette University Law School on Monday, April 12, to share their thoughts.
The four are Robert Peterkin, superintendent from 1988 to 1991 and a professor at Harvard since then; Howard Fuller, superintendent from 1991 to 1995 and head of the Institute for the Transformation of Learning at Marquette since then; Barbara Horton, acting superintendent in 1999 and now head of a charter school in Milwaukee; and Spence Korte, superintendent from 1999 to 2002, now retired.
Peterkin has headed Harvard's program to train urban superintendents in recent years and has rarely spoken publicly about Milwaukee issues. While Fuller has been one of the nation's most prominent voices for school choice programs, he has been cautious about speaking about MPS. Korte has also generally avoided the spotlight since retiring from MPS. Horton has the unusual distinction of having also been a member of the Milwaukee School Board for five years.
The panel discussion comes at an important time, as a new superintendent, Gregory Thornton from the Philadelphia area, prepares to take over the top administrative spot in MPS on July 1. Also, top political leaders such as Gov. Jim Doyle and Milwaukee Mayor Tom Barrett have pushed in recent months for overhauling governance of MPS, including giving the mayor power to select the superintendent. That effort has gone nowhere so far, but it may resurface after the November elections, when there will be a new governor and changes in the Legislature.
The April 12 session will begin with a reception at 4:30 p.m., followed by the program at 5:30 p.m. The discussion with the former superintendents will be moderated by Mike Gousha, the Law School's distinguished fellow in law and public policy.
The program is part of a Law School initiative to further public discussion of MPS issues, headed by Boden Visiting Professor Michael J. Spector. It is being held in cooperation with Partnership for Public Schools in Milwaukee, Inc., a non-profit organization led by Jeanette Mitchell, a former MPS School Board president.

You can follow any responses to this entry through the RSS 2.0 feed. You can skip to the end and leave a response. Pinging is currently not allowed.