Posted by: J. Gordon Hylton
Category: Marquette Law School History, Public
1 Comment »
Howard Eisenberg, dean of Marquette law school from 1995 until his untimely death at age 55 in 2002, was renowned as an appellate litigator. After his death, the American Academy of Appellate Litigators created the Howard Eisenberg Award in his honor to be given annually to the best article on appellate practice and procedure published in a journal. (One of the winners of this award is our own Prof. Oldfather.)
Howard's talents evidenced themselves early in his career, beginning with a highly successful performance in Moot Court at the University of Wisconsin Law School. The picture below recently resurfaced on the Internet and shows Howard's championship moot court team from 1970. Howard is the individual on the far right of the photo.
A fuller description of Dean Eisenberg's career can be found here.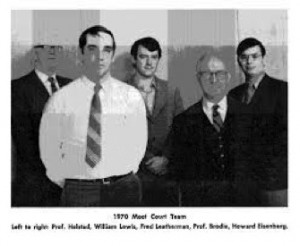 You can follow any responses to this entry through the RSS 2.0 feed. You can skip to the end and leave a response. Pinging is currently not allowed.