Posted by: Natalie Fleury
Category: Marquette Law School, Mediation, Negotiation, Public
Leave a Comment »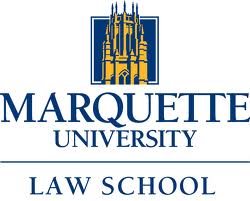 It was a busy weekend for the Marquette University Law School Clients Skills Board, the organization focused on building client-focused practice skills.
Cassie Van Gompel and Zach Geren finished 3rd, and Megan Marqusee and David Karp finished 4th, at the ABA Regional Representation in Mediation Competition at Quinnipiac School of Law on Saturday, February 27th. Cassie and Zach had initially tied for 2nd place, missing the semi-final round in the tiebreaker by less than 4 points.
Closer to home, 1st-year students Cody Hallowell, Keegan Girodo, Kelsey Schanke, and Ben Lucarelli beat out ten other 1L and 2L teams to win the Marquette University Law School Intramural Negotiation Competition, also on Saturday, February 27th. Local attorneys, many of them MULS alums, came to Eckstein Hall to judge the competition, providing great feedback to all the teams working to enhance their negotiation abilities.  Cody, Keegan, Kelsey, and Ben will represent Marquette in the ABA Regional Negotiation Competition next fall.

You can follow any responses to this entry through the RSS 2.0 feed. You can skip to the end and leave a response. Pinging is currently not allowed.