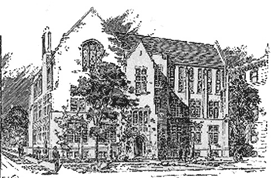 The second installment of the symposia celebrating the 100th anniversary of the founding of Marquette Law School was convened earlier today. The same panel of scholars from the first session returned to discuss the period from 1908 to 1940.  Joseph Ranney began by explaining how this time period saw the bureaucratization and professionalization of both legal education and the bar, and how these trends shaped the development of the Marquette Law School. In particular, Mr. Ranney noted the importance of the creation of the American Association of Law Schools, which sought to establish an accreditation process for law schools, and the transformation of law school faculties from exclusively part-time/adjunct professors to a combination of full-time and part-time/adjunct professors.
Next, Gordon Hylton explored how the Marquette University Law School embraced the Harvard model of legal education as conceived by legendary Havard Law School Dean Christopher Columbus Langdell. Professor Hylton noted how two major events helped shape and form the Law School during this period: seeking and achieving accreditation from the American Bar Association and securing the diploma privilege for Marquette Law School graduates. Thomas Jablonsky then contextualized the Law School's maturation within the development of the University as a whole, noting that the creation and operation of the Marquette Medical College helped guide the University's treatment of other professional schools like the Law School. Dr. Jablonsky also noted the effects of the Great Depression on the Law School and University; how the creation of the Marquette Law Review coincided with other Marquette publications (the yearbook and the Marquette Tribune); and how the building of Sensenbrenner Hall occurred when the University was purchasing significant properties in the area and building other new buildings (such as the Marquette Gymnasium).
The third session of the Centennial Symposia will be held on Tuesday, October 14, at 4:30 p.m. in Eisenberg Hall. The event will feature a roundtable discussion with Dean Emeritus Frank DeGuire L'60, Professor James Ghiardi '42, and Professor Gordon Hylton.