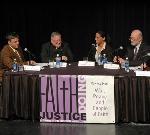 In a recent interview with the BBC, former Guantanamo prosecutor Lt. Col. Darrel Vandeveld discusses how the conflict he perceived between his military duties and his religious beliefs (as well as his beliefs about the requirements of the United States Constitution) created what the BBC terms a "profound moral crisis," one that eventually led to his resignation.  
I found it moving to hear another human being discuss his struggle with these issues of conscience so directly, forthrightly, and genuinely. If you want to hear Lt. Col. Vandeveld's discuss these events in his own words, you can watch this video at the BBC website. The BBC article reports the events this way:
It was one case in particular, that of a young Afghan called Mohammed Jawad, which caused most concern.

Mr Jawad was accused of throwing a grenade at a US military vehicle.

Col Vandeveld says that in a locker he found indisputable evidence that Mr Jawad had been mistreated.

After Mr Jawad had tried to commit suicide by banging his head against a wall at Guantanamo, Col Vandeveld says that psychologists who assisted interrogators advised taking advantage of Mr Jawad's vulnerability by subjecting him to specialist interrogation techniques known as "fear up".

He was also placed, Col Vandeveld says, into what was known as the "frequent flyer" programme in which he was moved from cell to cell every few hours, with the aim of preventing him sleeping properly, and securing a confession.

A devout Catholic, Col Vandeveld found himself deeply troubled by what he discovered.
But the classified nature of his work meant he was unable to share his growing doubts with friends and family.

As a result, he took the unusual step of emailing a Jesuit priest called Father John Dear, who is a well known peace activist.

In his email, Col Vandeveld talked of having "grave misgivings".

Father Dear was initially unsure if the email was serious and fashioned a quick reply.

"I sort of didn't believe it. But on the off chance he was a military prosecutor I wrote back and said 'quit'."

Col Vandeveld says his jaw dropped when he read the email, adding: "I lived in dread of that answer."

But eventually he did resign and has chosen to speak out about what he saw, giving the BBC his first interview.

"I never suffered such anguish in my life about anything," he says, looking back over the period.
"It took me too long to recognise that we had abandoned our American values and defiled our constitution."
The Jesuit priest from whom Lt. Col. Vandeveld sought advice, Father John Dear, was a panelist at the keynote Mission Week event this past February at Marquette.  Another BBC video clip shows Father John Dear discussing his email exchange with Lt. Col. Vandeveld.  Father Dear also discusses the events in more detail in reporting for the National Catholic Reporter.
I guess with this post I am failing to heed Andrew Golden's advice not to give away my political beliefs on the blog.  I will admit that I share Lt. Col. Vandeveld's conclusions about, for instance, what went on in Mr. Jawad's case.  In fact, I do not think it would have been much of a dilemma for me.  I could not have been involved in a prosecution under those circumstances.  
But I do think that this post has to do with the law, regardless of one's political beliefs or position about the interrogation techniques used at Guantanamo.  Isn't it troubling a prosecutor for our federal government, in an important prosecution, felt he had to go outside of the law to resolve the crisis, that somehow the law failed to provide the answer to the moral dilemma he found himself in?  Isn't the law supposed to encode our moral values about such things, about torture, about due process?  If not, shouldn't it?