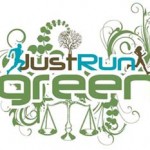 On Saturday, I ran a 5K in Stevens Point, in support of Justiceworks, Ltd., a nonprofit organization "dedicated to the advancement of programs and practices that secure right relationships between offenders, victims, and their communities" in Portage County.  My father lives and works in that community and asked me and my sisters to participate in the race.  It was incredibly pleasant, a flat run along the river in picture-perfect weather.
I knew very little about the organization before agreeing to do the run, and in my post-race googling I discovered that Justiceworks is a co-sponsor (along with the Portage County Bar Association and the University of Wisconsin-Stevens Point) of an upcoming symposium entitled Judicial Elections:  Navigating the Collision Course (note to lawyers: 7 CLE credits approved).  The conference will take place on September 17, 2009, and the lineup of presenters is impressive, including Bert Brandenburg, Executive Director of the national Justice at Stake Campaign; Thomas J. Basting, Sr., who served as President of the Wisconsin State Bar Association in 2007-08; and Wisconsin Supreme Court Justice Shirley Abrahamson.
The conference brochure promises that the program will "raise awareness about the significant issues confronting the State of Wisconsin in its judicial elections," noting that
Over the past several years, the Wisconsin Supreme Court elections and other state judicial elections have depicted the concerns this conference intends to address, the battle between the First Amendment of the Constitution and free speech versus concerns of judicial independence and an individual's right to due process.
The presentations look really interesting; for instance, Brady Williamson will give discuss recent US Supreme Court decisions including the June decision in Caperton v. A.T. Massey Coal Co., Inc., in which a split court held that a state supreme court justice's failure to recuse himself from a case in which the defendant was a corporation, the board chairman and principal officer of which was a primary contributor to the justice's campaign.  Other presentations will include a discussion of  "The Role and Responsibility of the Media" with respect to judicial elections, and a panel discussion entitled "Approaches to Change–Caperton and Beyond."
The time is ripe for discussion of Wisconsin's judicial elections, particularly in light of Caperton, the full implications of which are not yet clear. As you probably know, perceived failings in Wisconsin's system of judicial elections led the Wisconsin Supreme Court to appoint a Commission on Judicial Elections and Ethics in 1997.  Unfortunately, that Commission's final report remains useful background reading for the upcoming symposium, because the problems discussed there persist, such as the tensions between maintaining  a sense of judicial impartiality and independence while also respecting the First Amendment.