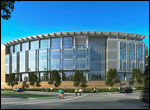 Eckstein Hall, our new home, was today named Project of the Year in The Business Journal's 2011 Real Estate Awards program. The announcement was made at a luncheon program at the Hyatt Regency in downtown Milwaukee: although various awards were announced in advance, this top award was shrouded in secrecy until near the end of the program.
This is a gratifying recognition for the Law School and the broader University — indeed, all who were involved in the project, including the design architect, Shepley Bulfinch Richardson & Abbott, and the construction firm, Opus North Corp. Tom Ganey, University Architect, and I asked Kathy-Kugi Tom and Jerad Protaskey, project managers for the University and Opus North, respectively, to accept the award.
The panel of four judges deciding the awards included Bob Greenstreet, Dean of the School of Architecture and Urban Planning at the University of Wisconsin–Milwaukee and formerly city planner for Milwaukee.
It is an especially welcome honor for all associated with the Law School for a particular reason. The scales of a close competition (especially between Eckstein Hall and the new Columbia St. Mary's hospital) were tipped by "the impact [Eckstein Hall] was having on the community," according to Mark Kass, The Business Journal's editor in introducing the awards.