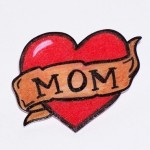 In what surely must be one of those "truth is stranger than fiction" stories comes the news that two siblings, one 20 and one 23, sued their mother for intentional infliction of emotional distress from "bad mothering."
In 2009, Steven Miner II and his sister Kathryn Miner sued their mother, Kimberly Garrity, for emotional distress due to her alleged bad parenting and requested $50,000 in damages.
Although the Miner children grew up in Barrington Hills, Illinois, in a $1.5 million home, they apparently felt deprived of a proper mother.  Among the listed incidents of their mother's "bad mothering" included Garrity telling her son, then 7, that she would call the police if he did not buckle his seat belt; calling her daughter at midnight, telling her to return from her homecoming festivities; refusing to take her daughter to a car show; failing to send her son care packages while he was in college; and failing to include money or checks in his birthday cards.  One exhibit included a birthday card Garrity sent to her son.  On the front of the card was a group cartoon tomatoes, all indistinguishable but for one, which had big, wide eyes.  Printed on the inside of the card was the sentiment, "Son I got you this Birthday card because it's just like you . . . different from all the rest!"  Garrity wrote, "Have a great day!  Love & Hugs, Mom xoxoxo."
Shelley Smith, Garrity's attorney, said in court papers that the complaint was a "litany of childish complaints and ingratitude."
An Illinois appeals court recently tossed the suit.  It noted that the children's allegations "are unpleasant and perhaps insensitive, and some would arguably fall outside the realm of 'good mothering,' but they are not so shocking as to form a basis for a claim for intentional infliction of emotional distress."
From the allegations given from both the Today show website and ABC News, there is nothing in the pleadings that comes even close to "fall[ing] outside the realm of 'good mothering.'" Where is it written that a parent must always include money in birthday cards?  Or send packages to her child in college?  Or deny her child what the child wants but does not need?  Many would say what Garrity did was responsible mothering, not "outside the realm of 'good mothering'," and certainly not mothering intended to cause emotional distress.  And one must wonder whether "good mothering" differs from "good fathering." Might there be a separate standard for fathers?  Why not refer to what Garrity did as simply "parenting"?
Oh, and the attorney for the children?  Their father.  He divorced their mother in 1995. Attorney Steven A. Miner claimed he filed the suit only after  researching it and says he tried to try to talk the children out of filing suit.  ABC News quotes Bruce Ottley, a law professor at DePaul University and author  of Illinois Tort Law, "This is just me surmising, but this looks more like the husband trying to get back at his wife." Professor Ottley, you're not the only one who drew that conclusion.