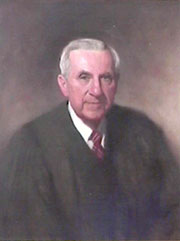 Tom Shriner's recent remembrance of Judge Dale Ihlenfeldt said to law students and new lawyers that "you can—must—learn the lessons of the law (and life) from everyone, not just your professors, but your colleagues, your adversaries, your clients, and even from judges." This last (neatly phrased) is the case, in my estimation, both of judges whom one knows and of others whom one has never met. One should collect judges, as Tom and I say to the students in our courses.
Two whom I have collected in my time in Wisconsin are Chief Justice Shirley S. Abrahamson and Seventh Circuit Judge Diane S. Sykes, L'84. While I have previously alluded to their friendly competition with one another on the Wisconsin Supreme Court, as it seemed to me, I do not seek to remember them here: They are very much with us. Rather, each herself had occasion in the U.S. Courthouse in Milwaukee, in the past year or two, to remember a late predecessor and friend: Judge Myron Gordon (pictured here, courtesy E.D. Wis.) in Chief Justice Abrahamson's case, and Judge Terence T. Evans, L'67, in Judge Sykes's. With permission, I wish to share these remembrances here.
Myron Gordon I did not know, but the Chief's remarks certainly gave me a strong sense of the man and the times. Gordon attended college at the University of Wisconsin and graduated from Harvard Law School in 1942. In his academic successes, the Chief—with some perspective on the matter—stated, "Myron Gordon lived the dream of Eastern European Jewish immigrant parents." He became a Milwaukee County Civil Court judge in 1950, holding a seat on the state trial bench for eleven years; was a justice of the Wisconsin Supreme Court from 1961 to 1967; and served as a judge of the United States District Court for the Eastern District of Wisconsin from 1967 until his retirement several decades later.
Gordon seems not to have forgotten his forbears. The Chief recalled one incident to make a large point: "When Myron Gordon was on the Supreme Court, several prominent Madisonians wanted to nominate him for membership in a private eating club that discriminated against Jews. They wanted to eliminate religious discrimination and selected Myron Gordon and Gordon Sinykin as their nominees because Myron and Gordon were above reproach. Myron understood the publicity that would ensue (which was not pleasant) and ill will that might follow (and it did). Neither he nor Gordon needed to be a member of the club—it added little if anything to their lives. But discrimination should be battled wherever it raises its head. And if Myron and Gordon were asked to lead the battle, they would do so. A small win, but every little win makes a difference."
I asked Chief Justice Abrahamson for a copy of her 2010 remarks, and I have made them available here.
Terry Evans I knew, though scarcely so well as did Judge Sykes, who was both his law clerk and, for some seven years, his colleague on the Seventh Circuit. Judge Evans attended Marquette University for both college and law school and was of Milwaukee in just about every other respect as well. He, too, became a trial judge in Milwaukee County at a young age (34 years old), before also being appointed to the federal district court here in Milwaukee (in 1979). Judge Evans joined the Seventh Circuit in 1995 and passed away quite unexpectedly this past year.
It is perhaps natural that Judge Sykes would especially remember Judge Evans as a trial judge, where he spent the majority of his time on the bench and she served as his law clerk for a year: "He was steeped in everything that is Milwaukee—its people, its traditions, and its institutions. Add to that his legendary sense of humor and his considerable powers of perspective and intuition and you've got a truly masterful trial judge. He could read the courtroom, size up each case really quickly, cut through the clutter, pull the story line from mountains of evidence, identify the real clash of interests, and articulate a concise and well‐reasoned decision that everyone could grasp. He did all this with a clarity of expression and wit rarely found in the world that we lawyers and judges inhabit."
Judge Sykes has been kind enough to share her remembrance of Judge Evans.
Judges are a mixed lot—as is the case for any large category of individuals. Some are good, others less so. Some work hard; others are unwilling to do all the work that is the premise of an efficient litigation system (e.g., superintending discovery disputes), and the practice (along with the society) suffers for it. But, in all events, the role of the judge is at the heart of the legal system, and so it is a contribution to our continuing education that Chief Justice Abrahamson and Judge Sykes would spend, no doubt, a considerable amount of time preparing their remembrances of Judges Gordon and Evans and permit us to share these in written form. These writings may, indeed, teach us some of "the lessons of the law (and life)."