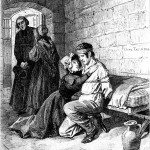 We live in an era of unprecedented mass incarceration.  Since the mid-1970's, America's imprisonment rate has quintupled, reaching heights otherwise unknown in the western world.  We embarked on this incarceration binge with little understanding of what impact it would have on families and communities.  The past fifteen years, however, have witnessed a great outpouring of research and writing on the collateral effects of imprisonment.  Those who work in the criminal-justice system should be — and I think increasingly are — knowledgeable about the real impact that their work has on the lives of the many human beings who are connected to each incarcerated person.
Practitioners (and students) who would like to learn more about this important issue will have a wonderful opportunity to do so in two weeks, when Professor Traci Burch of Northwestern University comes to Marquette Law School to speak on the "The Collateral Consequences of Incarceration."  Here is the description:
Dr. Burch will discuss the effects of mass incarceration on families and communities on Thursday, November 29th. This talk is based in part on her forthcoming book, Punishment and Participation: How Criminal Convictions Threaten American Democracy (University of Chicago Press). Dr. Burch will discuss how criminal justice policies shape disease, crime, domestic partner relationships, children and voting participation in low-income communities.

This event is co-sponsored by Marquette's Department of Political Science, Law School, Klinger College of Arts and Sciences, Office of the Vice Provost for Research, Department of Social and Cultural Sciences, and Institute for Urban Life.
The talk will begin at 5:15, with an informal reception and light refreshments to follow.  Additional information and a link to register for the talk are here.