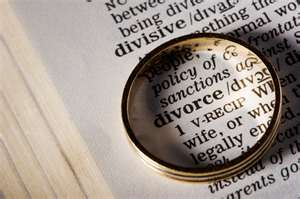 Every few years, we can count on hearing social commentary on the alleged erosion of American values.  Predictably, marriage is part of the discussion, and inevitably, the American divorce rate is cited as a cause for concern.  The figure usually cited is that 50% of marriages in the U.S. end in divorce, although the true figure is somewhere between 40% and 50% overall, with higher rates among couples who married at younger ages and lower rates for couples who married at older ages. 
The usual trajectory of this discussion is for someone to claim that we have made divorce "too easy," that marriages are viewed as throwaway commodities, and that the whole mess started in the 1970s when American states began to adopt no fault statutes.  Prior to that time, one spouse had to claim total innocence in the marital breakdown while proving "fault" by the other party in one of several designated categories – typically adultery, desertion, or physical or mental cruelty. This proof was a painful and distasteful process, and it could both lengthen the divorce process and make it more expensive. 
The adoption of no fault provisions made it possible for one party to obtain a divorce by alleging a ground such as "irretrievable breakdown" of the marriage without specifically attributing the blame to either partner.  Since U.S. divorce rates peaked in the early 1980s after the adoption of no-fault laws, social critics periodically argue that we should return to fault-based statutes to make divorce hard to obtain.
A recent article in The New York Times discusses the current situation in England, which still has a system that requires proof of fault to obtain a divorce.  It is a good reminder of where we Americans were a couple of decades ago, and it should serve as a cautionary tale about the consequences of returning to a fault-only divorce system.  As was true here in former times, English divorce cases require couples to prove the fault of one spouse, and unless it is a case of provable adultery or desertion, they are left with a broad category called "unreasonable behavior," which is roughly equivalent to "mental cruelty" under American statutes. 
The article cites examples of allegations in recent English cases: a husband who required his wife to dress in a Klingon costume, the husband who refused to share the TV remote control, and the wife who threw away her husband's favorite cold cuts.  These examples allowed us morning newspaper readers to have a chuckle, but I doubt that they are funny to the couples involved, nor to the judges who must juggle overcrowded dockets to listen to these pleas.  As the English judges observed, a fault system requires people to bring their squabbles into court and publicly accuse and humiliate each other.  If they are already suffering from the decline and end of their marriage, what possible justification is there for making them suffer more?
In fact there is little proof for the claim that the advent of no fault divorce "caused" more people to get divorced in the United States.  The divorce rate increased at a time when there were other huge changes in American society: more women in the workforce, fewer children per family, longer lifespans, and greater expectations about marriage providing happiness and fulfillment.  Lifelong marriage meant something different in 1900 when women had no other means of support and the average life expectancy was around 50.  The fact that people now marry more for love than for economic security may in fact demonstrate greater respect for marriage, even if people leave their marriages at somewhat higher rates than in bygone times.  Anyway, the low likelihood of obtaining a formal divorce did not stop people from simply leaving their spouses or having affairs: both behaviors are as old as marriage itself.
There was also a dark side to fault-only divorce.  Remaining in marriages until one had incontrovertible proof of a spouse's fault could be very unpleasant and sometimes dangerous.  Illinois was one of the last states to adopt no fault grounds, and I cringe when l think about my Illinois bar review teacher summarizing that state's rule at the time.  "Remember," he said," in Illinois the rule is that to obtain a divorce, the wife has to prove two beatings and that her husband had time to cool off in between."  What happened to those women who stuck around for that second beating?
People do not leave their marriages casually, and divorce is hard enough without making it harder.  The English experience should remind us of how far we have come, and encourage us to stay the course by continuing to allow couples to end their marriages with less accusation and less humiliation within a no-fault system.