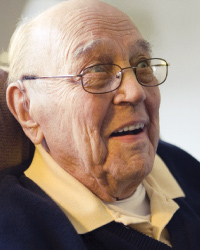 Frank Zummach, thought to be the oldest living graduate of the Marquette Law School, passed away on April 30, in his hometown of Sheboygan at age 101.
In addition to a long career as a member of the Wisconsin bar, Zummach also played and coached basketball at Marquette, and from 1939-1942, he served as head coach of the Sheboygan Redskins of the National Basketball League, a forerunner of the NBA.
Zummach, a Milwaukee native, attended Marquette High School, and enrolled as a college student at Marquette in 1929. He began playing basketball for Marquette in 1930, and he entered the law school in 1932, with one year of varsity eligibility remaining.
Zummach continued to play on the Hilltopper varsity team as a first year law student and then switched to the role of assistant coach once his eligibility as a player expired. When he received his law degree in 1935, Frank was a member of the second class of Marquette Law students to be admitted to the bar under the diploma privilege. Because of the quality of his work in law school, he received the J.D. degree, rather than the then more common, L.L.B.
Frank gave up coaching in the fall of 1942 and for the next six decades, he practiced law in Sheboygan. In the late 1990's, he was "rediscovered" by basketball historians and was a frequently lauded figure in basketball circles during the final fifteen years of his life.
For more on Frank's career, see my post "The Marquette Law School Graduate Who Coached in the NBA Finals." An extended obituary from the Sheboygan Press can be found at here.