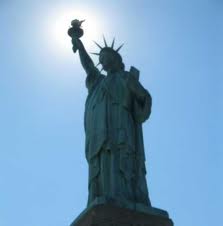 Robust equality is a relatively recent part of the American constitutional landscape, rooted in a limited way in the Declaration of Independence and then formally embraced in the Constitution's 14th Amendment, ratified in 1868, though it took another near century to buttress that guarantee with meaningful legal force. By contrast, liberty—e.g., of religious exercise, of speech, and of the press—and its attendant guarantee of non-deprivation without due process of law, go back to the nation's founding if not decades and in some cases centuries before.
In recent years, however, with great domestic and international dynamics at work, there has ascended into prominence and influence a norm of equality or nondiscrimination, or an unabashedly pursued equality of outcome, effectively supplanting the centrality of individual or group liberty as the citizen's core constitutional guarantees.
Part of this has been achieved by legitimate historical and other academic research and theorizing, though it should be noted that at times the neutrality of those undertaking such efforts may rightly be questioned. Part of this sea change, though, has come from a public and university-sanctioned tolerance for the suppression of viewpoints that conflict with the modern ethos of equality, variously defined. Many of these developments, moreover, have resulted from outside pressures—from interest groups to like-minded accrediting organizations—that seemingly leave the institutions with little choice but to comply with their dictates.
As repeatedly documented by, among others groups, the Foundation for Individual Rights in Education and the Center for Campus Free Speech, colleges and universities ironically have sometimes been the most egregious censors of speech under the banner of equality (or of perceived equal treatment), which perversely betrays a subordination of the time-honored values of truth-seeking and knowledge propagation to relatively fleeting interest-group pressures and ideological expediency.
Of course, this would all be well and good were these institutions absolutely certain—as every generation has erroneously presupposed—that they possess complete knowledge and the ultimate truth about the nature and morality of human beings.  Yet, not only do history and comparative anthropology belie such certainty, but the quasi-relativism that pervades modern academic worldviews makes it a virtually nonsensical proposition at the outset.
In case of all this sounds a bit abstract, it might be useful to contemplate a handful of contemporary examples. The current U.S. health care legislation, even after much protest and quasi-negotiation, contains only a very limited exemption for contraception distribution by religious medical institutions, regardless of the depth of their theologically grounded and longstanding opposition to such distribution. The debate, at least in the mainstream media, appeared largely one of a right of women's equality versus a claim of anachronistic and patriarchal religious beliefs, and the equality-driven arguments seem to garner the greatest media and public approval.
But it is, in fact, a fundamental clash between a relatively recent but au courant norm of equality and a time-honored right of religious freedom, albeit one that would not inevitably have secured legal success in the past. So it is also with the debate over recognition of same-sex marriages or civil unions, and the potential exemption for religious organizations to sanction such relationships. The suggestion here is that these conflicts are not necessarily amenable to easy resolution, but the tendency to discount the religious freedom assertions as nothing more than bigotry or prejudice or, more critically, secondary interests in the legal calculus is entirely unwarranted within our scheme of constitutional traditions.
The Constitution, as described by Chief Justice John Marshall, was "intended to endure for ages to come, and consequently to be adapted to the various crises of human affairs." McCulloch v. Maryland, 17 U.S. (4 Wheat.) 316, 415 (1819). The crises to which he may be referring could rightly encompass the increasing demands for equality, but surely a key principle that was intended to endure for ages to come is that of liberty of the people, both individually and collectivity. In this regard, it would be a pity indeed for this generation, or the next, to sacrifice such an enduring principle merely to satisfy the crises of the time, no matter how viscerally and forcefully they may appeal for vindication in the present moment.
Further Reading:
Roger Trigg, Equality, Freedom, and Religion (Oxford Univ. Press, 2012).
Introduction, Roger Trigg, Equality, Freedom & Religion (Oxford Univ. Press, 2012)
Marc D. Stern, Liberty v. Equality; Equality v. Liberty, 5 Nw. J.L. & Soc. Pol'y 307 (2010).