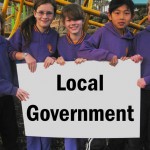 In Wisconsin, the Home Rule Amendment to the Wisconsin Constitution grants cities and villages the power to determine their local affairs and government, subject only to the constitution itself and uniform legislative enactments of statewide concern.  The Wisconsin Supreme Court has recognized that the Home Rule Amendment serves not only to empower cities and villages, but also to curtail the power of the state legislature to act within the sphere of local affairs.  Van Gilder v. City of Madison, 267 N.W. 25 (1936).  The job of defining the proper province of constitutional home rule authority (i.e., what constitutes a matter of "local affairs and government" or a matter of "statewide concern") falls to the courts and, not surprisingly, it is no easy task.  Given the concurrent interest of state and local government in many governmental functions, one may argue that such functions cannot be so classified except by arbitrary reasoning.
Notwithstanding the difficulty in defining its exact reach, local home rule is worth preserving and worth defending.  Fundamentally, local home rule supports the development of a vigorous urban democracy.  McQuillan, The Law of Municipal Corporations § 1.46 (3d ed. 2010).  Local home rule fosters a sense of civic responsibility by requiring citizens to become more educated and involved in community affairs.  Furthermore, by keeping governmental power as close as possible to the people, we aim to prevent the abuse or unnecessary expansion of such power.  This notion of a decentralized government is, in fact, essential to our American philosophy and ideal of government.
There are other, more practical reasons why it makes sense to preserve local home rule authority. First, each community possesses its own unique strengths and challenges and so each should have the freedom to choose the structures and functions that best fit the needs and circumstances of its citizens.  Second, local control (unhampered by state interference) allows government to maximize responsiveness to its citizenry.  Third, local home rule also promotes legislative efficiency at the state level by relieving the state of the burden of managing local affairs, thereby allowing the state to focus on matters that are truly of statewide concern.  And finally, home rule "removes from the state legislature the temptation to interfere with [local] affairs for reasons of partisan politics, spoils or corruption."  McQuillan, supra.
Although local home rule is an often overlooked component of our urban democracy, it is nevertheless central to its efficient operation and prosperity.