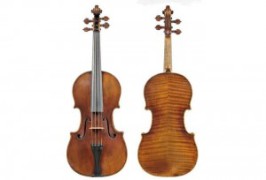 Bravo to the Milwaukee Police Department and everybody who cooperated to ensure the safe return of the Lipinski Stradivarius! What an impressive feat.  The recovery of the violin ends several days of anxious speculation about the violin's fate. Was it still in Milwaukee, as former FBI officer Robert Wittman (founder of the FBI's National Art Crime Team) believed? Or in a vault of an extremely wealthy and unscrupulous person in a remote country, perhaps side by side with the missing Vermeer painting "The Concert"? Did these robbers know what they were doing or were they a group of blundering amateurs—and which of the two would be more favorable?
The finest string instruments left to us by the great Italian violinmakers of the 17th and 18th century are among the most splendid of all human creations. They are also quite vulnerable: the 600 to 650 Stradivarius instruments that still exist are estimated to represent about half of Stradivari's output. Two Stradivarius violins were destroyed in plane crashes (in these accidents, which happened four years apart from each other, the world also lost legendary violinists Ginette Neveu and Jacques Thibaud).  Another one did not survive an allied air raid on Berlin. More recently, young star violinist David Garrett slipped after leaving the Barbican Concert Hall and landed with his full weight on the violin case strapped to his back, crushing the Guadagnini violin inside it. Of the violins, violas and cellos from the Italian masters that are still with us, many bear scars—in the form of painstakingly repaired cracks—inflicted by more mundane accidents and temperature and humidity conditions.
And then there is, of course, the scenario that was on everybody's mind after the theft of the Lipinski, even though few would say it out loud. Several rare instruments (including some Stradivariuses) have been intentionally destroyed, or were stolen and never found. While reading up on violin thefts, I came across a news report from 1910 that is as sad as it is short:
KANSAS CITY, Aug. 31.—Out in his little cottage, near the suburbs, M. V. Wandell, an aged musician, today mourns the loss of a Stradivarius violin more than he has at any time since it was stolen from him a year ago. Yesterday he located the third and last of the men who stole the instrument, and from the thief's lips came the same story that his two partners had told—that the violin had been destroyed. So the police have told Wandell there is no hope of ever getting the violin back. The instrument was more than 150 years old. It had been handed down to the musician by his ancestors. He played for a living and to him there was no music so sweet as that which the beloved Stradivarius gave forth. The robbers set upon him one night and tore his violin from his arms. He remembered their faces and located all of them unaided. Two are in prison. The third has confessed.
Exceptional string instruments tend to inspire love and awe as well as some fundamental humility in the musicians who play them. All of these traits shone through in an email Frank Almond wrote to the New York Times while the Lipinski was still missing: "At this point my best consolation is something I often said in public, and that I now remind myself of every day — that for many years I have been incredibly fortunate to be passing through its life, not the other way around." The Lipinski's anonymous owner expressed similar sentiments in her one public statement, in which she said she viewed herself "more as a guardian of a treasure than an owner, a treasure that needs to be seen and heard." As Norman Lebrecht put it, "Frank's discretion and the owner's dignified words unite in dealing with this cultural disaster not as personal tragedy but as an attack on human civilisation."
Needless to say, the theft of the Lipinski Stradivarius and the attack that accompanied it are a personal tragedy as well. Strads are fragile, but so are humans. It is troubling enough that there are people for whom a Stradivarius violin is nothing more than the money it might fetch in a sale or through payment of ransom. The reality exposed by the Lipinski robbery is even more chilling: to some, the musician who plays such an instrument is simply an obstacle. Thankfully Frank Almond has not incurred lasting physical injuries as a result of last week's armed robbery, but I suspect some time will pass before he can travel with the Lipinski without feeling like a target. I hope he recovers completely from this nightmare, and that the admirable police work on this case will deter anybody who considers copying this evil crime.