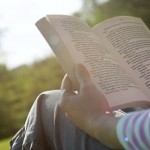 For those of us in and around the law school, the close of the academic year is often a time to catch up on all of that recreational reading we've been wanting to do. Maybe your recreational reading is a non-fiction book on a topic you've been wanting to learn more about; maybe it's a classic you've read before (or have always wanted to read); maybe it's the newest fiction you plan on reading on the beach. Whatever your choice of a for-fun read, let's start a list here.
After many, many months, I finally finished Tolstoy's Anna Karenina, a book I finished just to say that I finished it.
I will recommend, however, Karen Joy Fowler's We Are All Completely Beside Ourselves. I downloaded the full book to my Kindle quite by accident; I meant to download just the sample because I just wasn't sure about it. But within just a few days, I had finished the entire book. The writing was engaging and lively, and although it was easy to figure out the connection between Fern (the sister) and Rosemary (the narrator), the "why" of it all kept me reading until the end. (See here for a book review.) Fowler also wrote The Jane Austen Book Club, a book that was not nearly as interesting or as lively as We Are All Completely Beside Ourselves.
A few of my favorite reads from last summer include all three of Stieg Larsson's books: The Girl with the Dragon Tattoo, The Girl Who Played with Fire, and The Girl Who Kicked the Hornets' Nest. (Read with care – the subject matter is graphic and can be disturbing.) And although I am not a Hemingway fan, I did enjoy The Paris Wife by Paula McLain.
This summer, I may make it through Thomas Piketty's Capital in the Twenty-first Century; it's pretty thick, so I may end up being satisfied with reading the reviews. Also on my list are John Boyne's The Boy in the Striped Pajamas, Donna Tartt's The Goldfinch, and Gillian Flynn's Gone Girl.
What are your recommendations for a summer read?