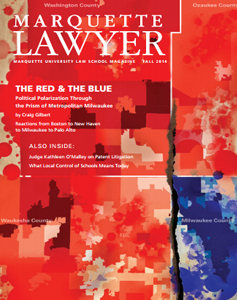 How did we get where we are today? Consider that a central question underlying many of the stories in the Fall 2014 Marquette Lawyer magazine, being mailed this week and now available online.
As Wisconsin's heated election for governor heads to a conclusion Nov. 4, the cover story of the new magazine provides both rich detail and thoughtful perspective on how Wisconsin, especially the Milwaukee area, became so politically polarized. Craig Gilbert, the Washington Bureau chief of the Milwaukee Journal Sentinel, spent much of the 2013-14 academic as Marquette Law School's Sheldon B. Lubar Fellow for Public Policy Research. Gilbert worked closely with Charles Franklin, the Law School's Professor of Law and Public Policy and director of the Marquette Law School Poll, in developing insightful data that show the changes. Gilbert calls southeastern Wisconsin "the most polarized part of a polarized state in a polarized nation." Six experts provide perspective on what Gilbert's findings mean in essays that accompany the piece. You may read it all by clicking here.
How did the handling of patent disputes in the United States reach its current state? That's the question addressed by Judge Kathleen O'Malley of the U.S. Court of Appeals for the Federal Circuit in her piece, "The Intensifying National Interest in Patent Litigation." The essay is based on O'Malley's recent Nies Lecture in Intellectual Property Law at Marquette Law School. The text may be read by clicking here.
I have written extensively on education issues for a couple decades but, until now, I never really stopped to think about how the power structure for making major education policy decisions has evolved. Wisconsin has long proclaimed itself a "local control" state when it comes to schools. But what's left of local control in an era where decisions by federal and state authorities shape so much of what happens? My conclusion is that there's still life in the concept. The piece, "Who Governs Local Schools?" may be read by clicking here.
The magazine also includes five interesting pieces about how individuals, four of them Marquette lawyers, got to where they are today.
Paul T. Dacier, L'83, writes about what he learned in law school and how it helped his career in a piece based on his remarks at the Marquette Law Review dinner recently. You may read what he said by clicking here.
At a dinner where he received the National Sports Law Institute's Joseph E. O'Neill Award, James L. Perzik described the course of his career. He is senior vice president of legal affairs and secretary of the NBA's Los Angeles Lakers. His remarks may be read by clicking here.
The Class Notes section of the magazine includes profiles of three Marquette lawyers: Bill McEssy, L'64, heads McEssy Investments and owns franchises for 47 McDonald's in Illinois and Wisconsin. Click here. Barbara O'Brien, L'87, has a successful career specializing in insurance matters. Click here. And Andy Shiffman, L'09, is launched into a career he loves, working as an agent for professional basketball players. Click here.
One final thought on how we got to be where we are today: Marquette Law School would not have the quality it has today without the support of Marquette University's leaders and very generous donors who have supported our efforts. In the "From the Dean" message, Dean Joseph D. Kearney, in both words and a photo, brings together Marquette's new president, Michael R. Lovell, and philanthropist Sheldon B. Lubar, describing their vision and support which make so many accomplishments possible. Click here to read the Dean's message.
So, again, consider the new issue of the magazine an invitation to think about how Marquette Law School got where it is today. We hope you will use this magazine as an opportunity, as Kearney says in his column, to come to know us better.
The full magazine may be found by clicking on this PDF. Past issues are available here.