Metropolitan regional economies are "the most cohesive economies we have," Charles L. Evans, president of the Federal Reserve Bank of Chicago, says.
But what is it that gives cohesion to the metropolitan region that stretches from the Milwaukee area through Chicago and into northwestern Indiana? And how should the region move forward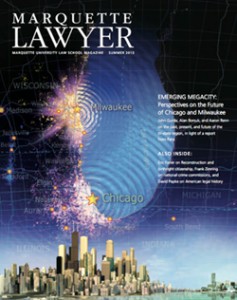 in a cohesive way?
It's a tall order to change the way people think, but the Alliance for Regional Development, a non-profit co-chaired by major business figures from Indiana, Illinois, and Wisconsin, is trying to do that. On Dec. 19, it convened a "Summit on Regional Competitiveness" at the Federal Reserve Bank in Chicago.
The effort to foster more cooperation in building on regional strengths in pursuit of greater economic success was spurred in large part by a report released in 2012 by the Paris-based Organization for Economic Cooperation and Development (OECD) which concluded that the Chicago region was growing more slowly than many other economic hubs around the world. The report strongly urged more effort by all involved to work together as a region. It said regions that work together have flourished more than those that do not. The regional alliance was created in the aftermath of that.
The "megacity" effort has been of great interest to Marquette Law School, as well as Marquette University more broadly. In 2012, a conference at Eckstein Hall brought together leading experts and advocates, and that was followed by the Summer 2013 issue of Marquette Lawyer magazine which focused on the subject. Our interest in the regional effort has continued. Professor Charles Franklin, director of the Marquette Law School Poll, and I attended the Dec. 19 conference.
Overall, the conference was a forum for task forces created about a year ago to report on what they were doing. The task forces were built around some of the central recommendations in the OECD report, including finding ways to encourage more innovation, improving transportation systems of all kinds, and finding more effective ways to develop the work force, including coordinating education and job training on a regional basis.
"We all knew this was going to be a heavy lift," said Carmel Ruffolo, a professor at the University of Wisconsin-Milwaukee and UW-Parkside and moderator of one of the sessions.  But, she said, "those borders are starting to diminish."
There were no dramatic breakthroughs unveiled at the conference. A Web site is being developed with the goal of giving entrepreneurs and innovators more effective and prompt help in launching business ideas. A detailed data base of the regional economic "ecosystem" is being created. A new video promoting the use of job fairs to link potential employees and employers was shown. Milwaukee's focus on building up its water-related economy is viewed as a model of pursuing innovation and ways to take the focus on water to greater success as a regional approach were discussed. Transportation for goods and people is a strength of the Chicago region, and there is a great need for regional approaches to updating transportation, including air, water, and rail transit and not just roads. There was much talk about the need to cooperate in pursuit of the most economic vitality for the region.
What should be promoted as the identity for this region? "This region makes things," said Don Babcock, of North Indiana Public Service Co. He said the region should be branded as a vibrant source of innovation.
Robert Wolcott, co-founder and executive director of the Kellogg Innovation Network at Northwestern University, said the region should be known for making "real stuff" and offering nice people to work with.
But the need to make sure there is a strong supply of those people was also a theme.  " 'Show me the money' has turned into 'show me the people,'" said Deborah Davidson, vice president of the workforce and economic development division of Gateway Technical College in Kenosha. The human resources panel she was on focused on ways to put more people on track to gaining the skills employers are looking for, while reducing duplication across state lines.
William Tompson, an urban development expert with the OECD in Paris, suggested one big plus for working together as a region is "the pure agglomeration effect. Big cities bring more people and resources together, are more productive, have more creative people, and, as a result, thrive more than smaller cities.
But, referring to the OECD finding that there were 1,700 units of government in the region, Tompson said more fragmented areas grow more slowly and are less productive, and are more likely to have sprawl and low satisfaction with public transportation.
Several speakers and panelists emphasized the need for a continuing revival of the manufacturing sector and how valuable manufacturing is to the region's future.
"Working fast together" was the theme of the session. Among audience members, support for that theme seemed strong. But in the broader public in the three-state area, there is only limited evidence of success so far in building cohesive momentum for a "megacity" approach to the region's future.